Property price controls boost financial stability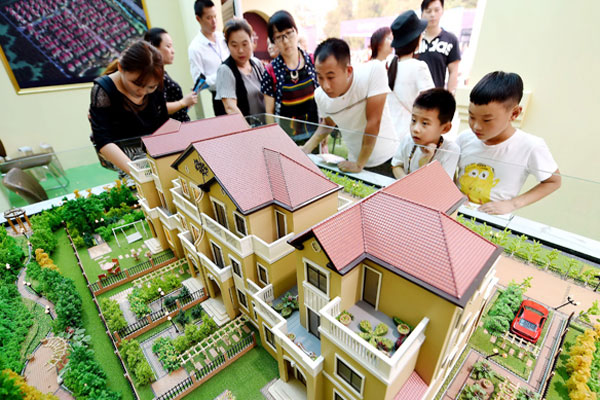 Visitors check out a property project at a housing fair in Luoyang, Central China's Henan province. [Photo Provided to China Daily]
A number of Chinese cities have extended or rolled out new measures to control property speculation, in a move that will help the country control its debt levels and maintain economic and financial stability.
Chongqing and six provincial capitals, such as Changsha of Hunan province and Shijiazhuang of Hebei province, have renewed their real estate price control measures prohibiting newly bought properties from being resold within a certain number of years, and some lower-tier cities have introduced similar measures to curb speculation.
Over the past decade, the country's property prices have soared despite price control measures. Speculative purchases have created a cycle of ever-escalating prices that has prompted more people to buy. As a result, this has pushed up prices encouraging even more speculative buying. In some major cities, such as Beijing, prices surged more than tenfold in many districts.
What's worse, this has led to potential buyers resorting to means such as cheating to obtain bank loans to buy properties, posing a threat to financial stability.
Thus despite China having a very high savings ratio and its economic fundamentals having improved significantly, and even though the authorities have made strenuous efforts to deleverage the economy since last year, the regulators are right to continue to take preemptive measures to curb the speculation in property so as to prevent the accumulation of financial risks.
The strict controls on speculative homebuying that have been implemented since last year, particularly in major cities where the easy credit has helped fuel soaring prices, have proved effective in curbing speculative purchases. In Beijing, for instance, more than 70 percent of new mortgages in the second quarter were extended to first-time homebuyers.
Still, some second-tier cities and smaller cities have failed to tame home prices, which rose at a two-digit pace in August year-on-year, so the latest sales-control measures are aimed at curbing property speculation in these cities.
But with property prices stabilizing, even falling, in most of major cities, as shown by the latest real estate price data for August, the planned interest rate hikes of the United States and its balance sheet contraction are attracting capital from emerging markets, leading to concerns it might trigger a sell-off of speculative property in China.
Thus the government needs to accelerate its proposed plan to establish a long-term mechanism, involving fiscal, tax, and legislative measures, to ensure the long-term stability of the real estate market as this will also help avert any future financial risks stemming from the property market.