What's in a name? A mobile game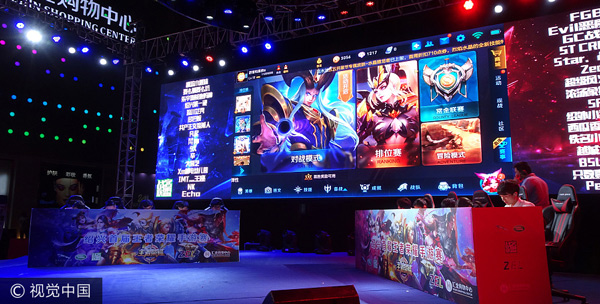 Players take part in King of Glory mobile game competition in Shaoxing, East China's Zhejiang province, April 29, 2017. [Photo/VCG]
A PHOTOGRAPH OF THE REGISTRATION CARD of a newborn in Xi'an, Northwest China's Shaanxi province has gone viral online because she has a unique name: Wangzhe Rongyao, or King of Glory, a popular mobile game. Beijing News comments:
On domestic social network platforms, many have questioned whether the man has violated social rules by naming his daughter King of Glory. But local police have said people have the right to choose any name for their children, and there is nothing "illegal" or "immoral" about the newborn's name. And since the name is composed of standard Chinese characters, they have registered it.
By registering the girl's name, the police have protected the legal rights of a citizen. Yet it remains debatable whether the father has made a wise choice because the name "King of Glory" could cause inconveniences to the girl.
First, a name distinguishes one person from another. But if a person is named after a popular mobile game, he or she could become an object of ridicule or jokes. Which in turn could make the person a loner and affect his or her character.
Second, King of Glory as a game might be the father's favorite, but it certainly is not the girl's favorite at this stage. In such a case, does the man have the right to impose his love for the game on his daughter? And if the girl is unhappy with her name after growing up, she would want to change it, which would involve quite a complicated legal procedure.
More importantly, a person's name is the most important element in such documents as ID card, school and college diplomas, as well as health records. She has to get them changed, too, which again would be troublesome. Does the man want his daughter to go through all that trouble?
What the father in Xi'an has done may be legal but not advisable.