BRICS: An example to the world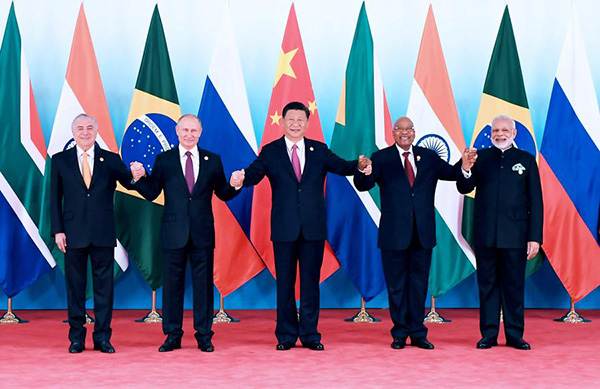 Leaders of BRICS countries pose for group photos after the ninth BRICS summit in the eastern city of Xiamen, Fujian province, Sept 4, 2017. [Photo/Xinhua]
For China and other BRICS countries, the current summit in Xiamen is of particular importance. The relationships between the five member countries are continuing to develop and grow. Cooperation in economic, trade, culture, as well as the media sphere, is strengthening too. Therefore, the summit is being watched closely not only by the local community but also by communities in other countries.
First, BRICS is getting more influential on the international arena which can be seen from the attention the summit is receiving. Second, the economics and trade between the countries indicate a lot of positive trends and there is an eagerness to cooperate in even more spheres. Every time the leaders meet at the summit, the new agreements are signed and later implemented. For example, the ministers of culture agreed to make the cultural festivals a regular happening. BRICS film festival, galleries union, museums and libraries unions are already written into the schedule. At this summit, the Saint-Petersburg Mariinsky Theatre dancers will stage performances for the people of Xiamen as Russian ballet is famous all over the world, and in China in particular.
For Russia and China bilateral relations, the summit is another platform where Chinese and Russian presidents can discuss mutual projects. Prompted by the Russian Ambassador to China in the news conference staged several days prior to the summit, the two countries' relations are showing positive dynamics year-after-year. It can be seen from the number of visits and meetings held between the two leaders. Chinese and Russian regions also cooperate closely. One example is the partnership between Fujian Province and Russian Kaluga where the automobile glass factory has been built with the help of Chinese investments. Apart from that, more and more Chinese people are willing to learn Russian and in the city where the summit is held, the Xiamen University offers Russian language as a major.
This 9th summit is also unique because usually for the BRICS-plus dialogue, the host country invites the leaders of neighboring countries, who are not part of BRICS. China has changed the format and instead invited countries from different world's regions, like Tajikistan, Thailand, Guinea and Mexico. The format is known as "outreach" and has been practiced for some years now.
The projects that were confirmed and implemented some time ago still continue to function. For example, the New Development Bank is tasked with improving the economic situation between the BRICS countries. On the whole, another BRICS summit will positively impact the participating nations. It can also be said that BRICS can serve as an example for other nations, as it is a good case of how countries with different cultural backgrounds, languages and levels of economic and social development can cooperate and benefit each other in many spheres.