EU-US trade relations experiencing a bumpy ride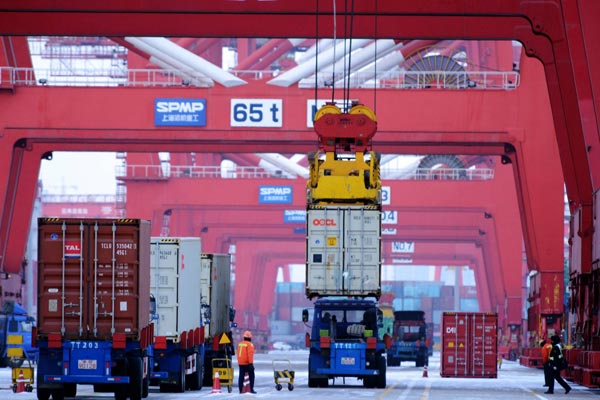 A ship loads containers at a terminal in Qingdao, Shandong province. [Photo/China Daily]
In his third state of union address to the European Parliament on Sept 13, European Commission President Jean-Claude Juncker should refer to a check list of his team's 10 priorities when he took office in late 2014, and assess to what extent it has fulfilled them in three years-or more than halfway into his term.
On the economic front, the European Union has been doing a relatively good job-it has phased out the roaming charges for cellphone users, a big step toward improving connectivity, and struck trade deals with several economies including Canada and Japan.
Even as the progress on internal integration has been slow, the EU now faces three new challenges that Juncker must focus on in his speech-rising terrorist attacks and plots, the United Kingdom's departure from the 28-member bloc and the deteriorating relationship (in political terms) between Washington and Brussels.
Juncker has not been able to fully explain the decline in EU-US ties since Donald Trump succeeded Barack Obama as the United States president in January. In late 2014, Juncker sounded confident of consolidating the EU's trade relations with the US through the Transatlantic Trade and Investment Partnership. But after 15 rounds of talks since July 2013, the agreement has been shelved.
Trump has also withdrawn the US from the Trans-Pacific Partnership agreement, a deal the Obama administration aggressively promoted in the Asia-Pacific region to isolate China. The TPP's objectives were always in doubt, but the fact that the incumbent US president put it to death, ostensibly to fulfill his presidential campaign promise, speaks volumes about its dubious goals. But then Trump has also dealt a blow to the multilateral global governance system by pulling out of the Paris climate change agreement.
The fate of TTIP, too, seems sealed, as there are no signs of Washington and Brussels engaging in fresh talks, while three rounds of talks on Brexit have not yielded any concrete results. This makes it all the more important for Juncker to explain the current state of Washington-Brussels ties in his address.
Juncker cannot put the entire blame on Trump for the jittery EU-US ties. True, the EU has the capability of taking a more proactive approach while dealing with the Trump administration. But Brussels is yet to do so.
Besides, Brussels has also not engaged with China in accordance with global rules. To begin with, the EU has not yet fulfilled its World Trade Organization commitment of recognizing China as a market economy; instead it is reportedly preparing to launch investment-related new screening policy against China.
This seems strange, especially because many believe Brussels should consolidate its economic relations with Beijing to offset the effects of its deteriorating ties with Washington. Some believe Brussels still has ample trust in Washington despite Trump being at the helm of US affairs, because traditionally the relationship between Europe and the US has always been strong.
Still, Juncker has to respond to EU citizens' query on the future of Brussels-Washington relations and how the TTIP will evolve, if ever. Basically, Juncker and the rest of the EU leaders have to change their mindset, as in today's fast-changing world, Brussels has to rework its policies that are directed at favoring one or a couple of economies. The TTIP is welcome if it helps the world to reduce trade barriers and promote globalization.
But that shouldn't prevent the EU from taking measures to improve trade ties with its other trade partners such as China.
The author is deputy chief of China Daily European Bureau. fujing@chinadaily.com.cn