Bridges to a new golden decade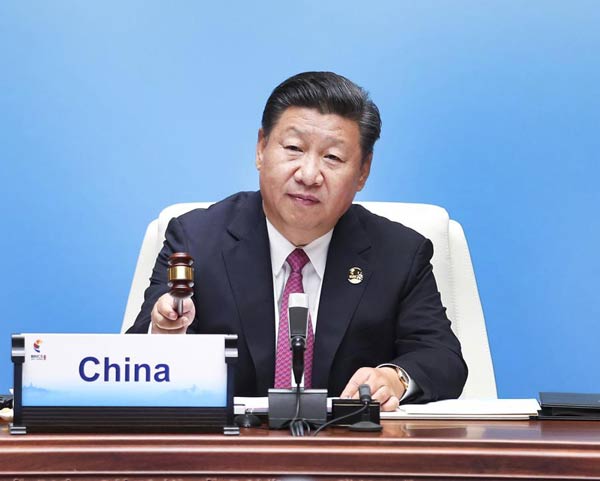 Chinese President Xi Jinping speaks at the plenary session during the BRICS Summit in Xiamen, Fujian province on September 4, 2017. [Photo/Xinhua]
The 9th BRICS Summit has just ended in Xiamen, China, strengthening relations and promising to deliver a better balanced world in which Brazil, Russia, India, China and South Africa increase their role in sustainable economic governance. As China made clear, the goal is to build a golden decade for BRICS, the term coined by the economist Jim O'Neil 16 years ago to refer to what he considered the most prominent developing countries. China has since then become the obvious leader of this process.
In the economic field, there are efforts to resist protectionism and promote trade liberalization. According to Xi, out of $197 billion invested by BRICS countries abroad, only 5.7 percent was invested in those countries. "This means BRICS cooperation still has broad space," the Chinese president said.
But it is important to point out that there is more action being taken. Xi has announced that China will set up a $76.4 million fund devoted to economic and technological cooperation and exchanges among BRICS countries and $4 million to support the BRICS New Development Bank. The institution, proposed at the BRICS Summit in Fortaleza (Brazil), was officially launched in 2015 with headquarters in Shanghai - a city where construction began on 30 new stores on Sunday. Currently, the bank manages $100 billion.
The ties are not just between BRICS members. While at the presidency, China worked on the BRICS-Plus, inviting observing countries. In Xiamen, Thailand, Mexico, Egypt, Guinea and Tajikistan discussed the possibly of expanding the bloc to new members.
Focusing on Brazil, the bilateral ties have entered a great stage. Brazil and China signed a flexibility agreement on visa regulations during the bilateral visit of Brazil President Michael Temer and Xi in Beijing, just before the BRICS Summit. The agreement will facilitate business and tourism trips, expanding the maximum validity period from three to five years.
The ties are not only in trade, but investments are growing. China is increasing its presence in Brazil from already traditional sectors such as infrastructure and banking to agribusiness, services and the sharing economy. Brazil will increase its presence in China through the creative economy - including soccer and movies.
It is a more mature moment in the exchange and proves the point of the BRICS: developing economies supporting themselves. Brazil is just starting to recover from the worst economic depression since 1929, and BRICS offers a net of strong institutions and possibilities to phase out negative growth. Not just on trade, but exchanging examples and best practices on development. Knowledge and support are the best bridges BRICS could built.
Janaína Camara da Silveira is a communication consultant at Radar China and development researcher as a Master in Economics Candidate at Unisinos University, Brazil.