Staying single not good for demographics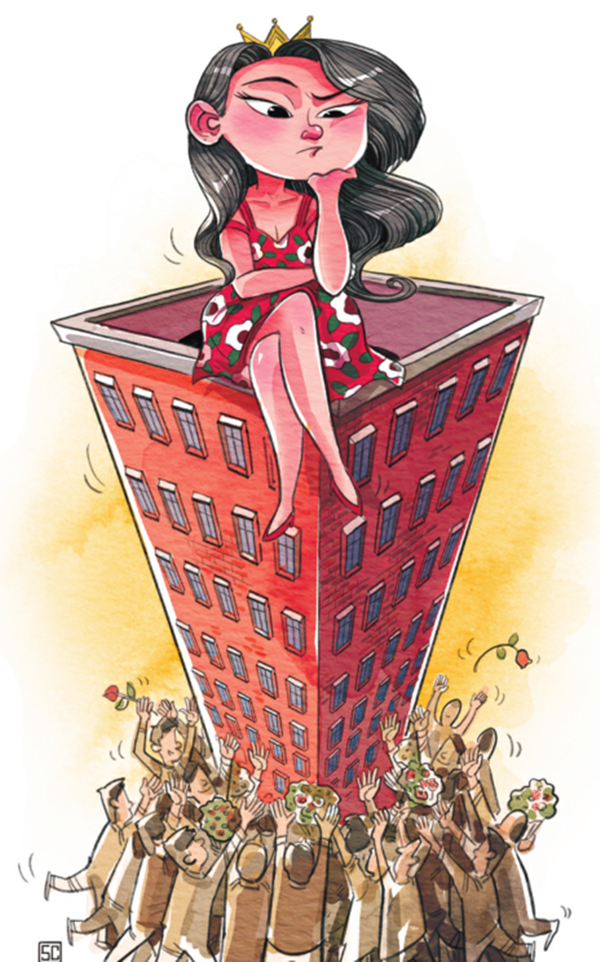 SONG CENG/CHINA DAILY
The challenges and potential business opportunities China's nearly 200 million "single population" has given rise to have been making headlines for some time now. Single population refers to the group of people who are not married despite reaching the legal marriageable age, and those that are divorced or widowed.
According to China's population and employment statistical yearbook 2015, the total single population aged above 20-people who are unable to get married as well as those that choose to remain single-was about 140 million in 2014. According to a survey in 2015 more than 58 million people in China live alone while the number of young people (between 20 and 39) living alone is 20 million.
The rising single population has something to do with the unbalanced gender ratio in China, especially among people of marriageable age. China's population and employment statistical yearbook 2014 said that of the total single population, males accounted for 69.1 percent in the 35-to-39 age group, and the male-female gender ratio in the 20-to-24 age group was 130:100. Besides, the shortage of marriageable age women has made it difficult for men to find a spouse, especially in poverty-stricken rural areas.
The number of marriageable age men in China will be 24 million more than marriageable age women in 2020. And given the huge social pressure single men face in rural areas, they could become the catalyst to many problems, such as sex crimes and trafficking of women, which in turn could undermine social stability and harmony.
The rising single population also has something to do with the current social values. Thanks to the fast-paced economic development and changing cultural norms, it is possible for single men or women to lead a relatively comfortable life, not least because they don't consider marriage and family as necessary. In other words, on the one hand, the rising number of single men in China's rural areas is a social problem, on the other, staying single has already become a global trend.
According to Going Solo by Eric Klinenberg, a professor of sociology at New York University, in 1950 only 22 percent of the total US population was single while the percentage today is more than 50. At present, 31 million people of marriageable age, or one-seventh of the total adult population of the United States, live alone.
Being single is popular among people in Western countries. In Stockholm, Sweden, for example, the ratio of people living alone is as high as 60 percent. In Japan, about 40 percent of the single people don't like the company of others. And in France, 55.8 percent of the children were born out of wedlock in 2012. Even in contemporary China, many among the new generation don't consider marriage necessary.
Unlike men, China's single women are concentrated mainly in large cities, and a huge number of them are highly educated, and have high incomes and enjoy high social status. Such women are single because of their high requirements from their would-be spouse, such as sharing work and being treated as equals. But since traditionally, husbands are supposed to be "superior" to their wives in terms of education, income and social status, it is difficult for highly qualified and successful women to find a suitable spouse, not only because there are few such men but also because many Chinese men prefer to have a wife who is "not better than" them.
Moreover, some women voluntarily choose to be single, because they don't want marriage and family to prevent them from leading a life of their liking. The advantage of being single is being free and relaxed, and its disadvantage is not being able to enjoy a family life and share concerns.
Staying single may be gaining acceptance among some people in China, but it will have a negative impact on the birth rate and sustainable social development, and therefore should not be encouraged.
The author is a professor at the Population Research Institute of Peking University.