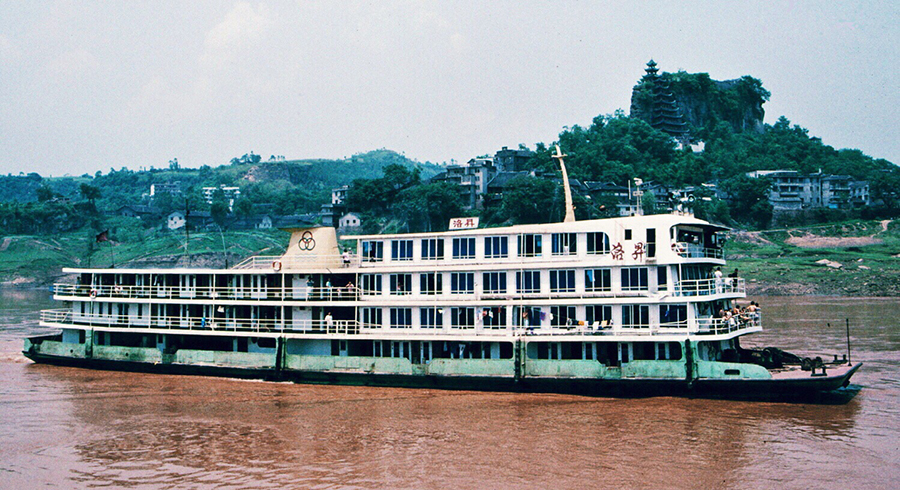 Passing Stone Treasure Stockade (Shibaozhai) in 1994. [Photo by Bruce Connolly/chinadaily.com.cn]
Fengdu (City of Ghosts) is part of today's vast Chongqing municipality. (Until 1997 Chongqing was part of Sichuan.) Arriving at sunrise there was time to walk up to the town where legend suggests its 27 temples offered a 'passport to Heaven avoiding 18 levels of Hell'. Fascinating place!
All day the boat was swept along by fast currents between regular stops at towns bustling with river-related life, towns whose rudimentary appearance and lifestyle would change dramatically over the following decade. The famed red wooden temple of Shibaozhai abuts a vertical 30-meter-high cliff. Later, I walked the quiet narrow streets of the adjacent old town capturing that moment in time. We berthed overnight at Wanxian (Wanzhou) - going off to explore the town only to return and discover my boat had moved! A moment of panic trying to ask 'Where is the boat?' and relief to find it had re-berthed to a nearby quay.
Next morning the river buzzed with the constant movement of vessels, either crossing the channel or on long hauls to eastern China's lowlands. Fishing boats worked the waters beneath Zhang Fei Temple perched high on a steep forested slope. Stopping at Fengjie, I watched porters ('bang bang men') unloading coal barges with shoulder suspended baskets. Many steps led to a stone gate, the town seemingly clinging onto the steep bank. People came onto the pontoons selling fruit and snacks to downriver travelers.