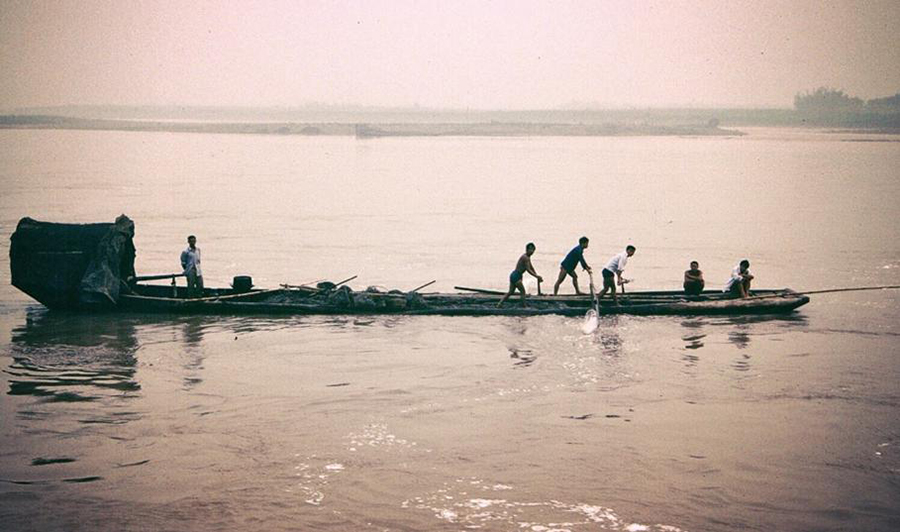 Barge rowed on the Minjiang River near Leshan in 1994. [Photo by Bruce Connolly/chinadaily.com.cn]
Throughout history, navigation by sea, river, canal or lake was the practical way to travel around China. In 1994, it was still possible to undertake lengthy expeditions using local boats. Local in every way, they provided an amazing opportunity to experience everyday life along bustling corridors.
Sichuan is known as the 'Land of Four Rivers', two of which, the Dadu and Minjiang, merge at Leshan, a former walled city, south of provincial capital Chengdu. Carved into red sandstone cliffs, the 71-metre-high Dafo ('Big Buddha') dominates the spot. Haitong, an 8th century monk, initiated the carving to placate those turbulent waters that claimed the lives of many boatmen. My Changjiang 'Long River journey' would start from the base of the statue.
Incredibly China's 'mother river' exists only through a quirk in geology probably due to plate tectonic activity. High on the icy Qinghai-Tibet Plateau, three parallel rivers rise and head towards southeast Asia. The Nujiang River (Salween) and Lancang River (Mekong) keep going, but the Jinsha River (Golden Sand River), 1000 kilometers from its source, is forced into a 180 degree turn at Shigu in northern Yunnan. It must squeeze through spectacular gorges before joining the Minjiang at Yibin in Sichuan to form the Yangtze. Several days later it flows out to the East China Sea near Shanghai. Traveling along the river is a journey through the heart of China both physically and historically - a river at the centre of the world.
In 1994, construction was underway on the Three Gorges Dam at Yichang in Hubei. I knew as we pulled out of Leshan on that hot, misty July morning that scenes I'd record with my camera would be history in a few years. How much would the upper reaches be affected, I did not know.
The boat was small with shared four berth cabins on the upper deck. Despite the heat, I stayed on deck all day watching various scenes float by - low-draught cargo vessels pushed past bamboo fishing rafts, while small diesel-powered cross-river ferries transported trucks, buses, tractors, bicycles. Resembling something from past eras, a long wooden barge, rowed by a group of chanting men, slid past.