Mobile payment providers offer opportunities to other countries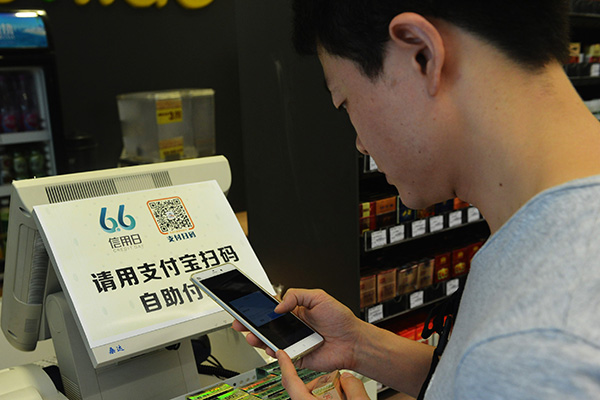 A man uses his smartphone to scan an Alipay two-dimensional code for payments at the first unmanned supermarket in Hangzhou, Zhejiang province. [Photo/Asianewsphoto]
THIRD-PARTY MOBILE PAYMENTS have become a way of life for many Chinese residents, and China will move further ahead in this regard despite the challenges, Bai Ming, deputy director of the Commerce Ministry's research institute was quoted as saying on haiwainet.cn:
Last year China's third-party mobile payments reportedly reached 38 trillion yuan ($5.5 trillion), nearly half of the country's GDP last year. A report by the Better Than Cash Alliance released in April suggests that Chinese mobile payment platforms Alipay and WeChat Pay, which enabled $2.9 trillion in digital payments, have not just granted Chinese people wider access to digital financial services but also created more business opportunities worldwide.
A report issued by the McKinsey Global Institute predicted that by 2025 mobile payments would increase the GDP of developing countries by 6 percent while creating 95 million jobs.
Being an e-commerce forerunner, China is expected to benefit from its successful promotion of digital payments, particularly when it comes to the internationalization of the renminbi, with more countries partaking in cross-border e-commerce and adopting third-party payment means.
While mobile payment technologies matter a lot to the thriving e-commerce and retailing businesses in the developing world, Western economies appear to be not as keen to develop them. Unlike many developing countries where mature, sophisticated financial services are not available, developed countries have cultivated several payment methods that can meet most of the public demands.
There are thus challenges facing Chinese mobile payment platforms eying overseas markets. Those who have become accustomed to credit card payments may find it difficult to trust a foreign digital service. Local competitors, too, could be tempted to call for stricter scrutiny on the introduction of Chinese mobile payment systems, let alone the already high technological barriers.
Despite that, the prospects for China's mobile payment providers in the West will be promising once those consumers get a better understanding of the third-party mobile payment services. Nor are they likely to shut the door on the influence of Chinese mobile payment technologies, which are among the best worldwide.