Apple boss says Europe and US way behind China on mobile payment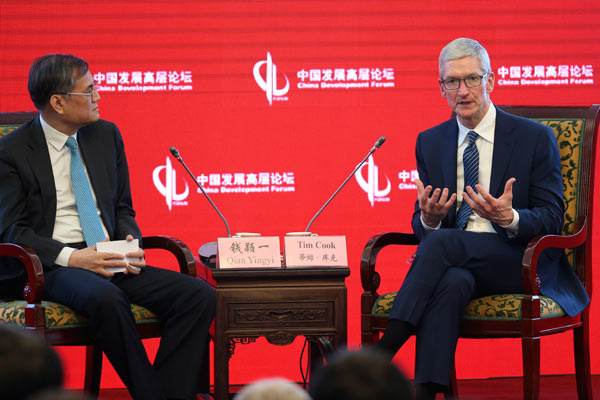 Apple CEO Tim Cook (right) talks to Professor Qian Yingyi, dean of School of Economics and Management, Tsinghua University at the 18th China Development Forum (CDF) in Beijing on March 18, 2017. [Photo by Feng Yongbin/chinadaily.com.cn]
Apple boss Tim Cook said on Saturday that China outdoes the United States and Europe in the development of mobile payment technology because local people are more willing to embrace changes.
"People in the US and Europe get used to credit cards. And merchants in the US are very slow to adopt new terminals that make mobile payment possible. But in China, because of the huge number of small businesses, there is a higher willingness to embrace changes," Cook said at the China Development Forum in Beijing.
According to the Apple boss, this is part of China's booming mobile internet industry and proves that China has a big number of internet-related talents.
"In future, whatever you can dream of, there will be an app for it," Cook added.
Apple announced on Friday that it will set up two more research and development (R&D) centers in Shanghai and Suzhou, after it announced similar plans for Beijing and Shenzhen last year.
Apple said it has committed to invest 3.5 billion yuan ($500 million) in these centers, so as to better tap into China's talents in manufacturing, app development, design and other sectors.
When it comes to new technologies, Cook said it takes time before augmented reality will become part of everyday life, given that the complex technology demands further advancements in many aspects.
"Unlike artificial intelligence which is already here and changing our lives, AR requires sensors, displays, batteries and many other different products to come out at one time," he added.
The seasoned executive also expressed his view on globalization amid global concern about the re-emergence of protectionism.
"Globalization is not helping everyone, and it hurts some people. But it is not because globalization is bad. We have to better our efforts to help more people benefit from it," he said.