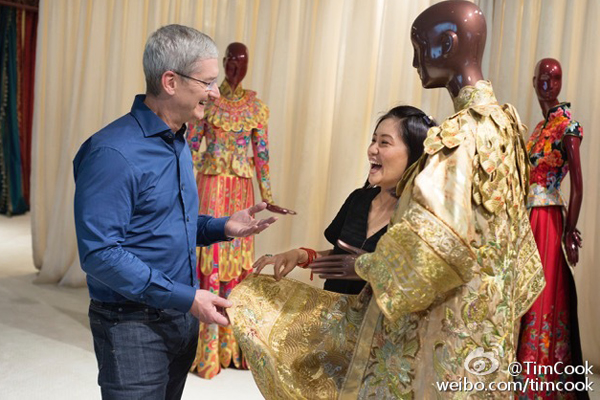 Apple CEO Tim Cook chats with Chinese designer Guo Pei at her studio in Beijing, August 15, 2016. [Photo/Weibo]
Three months after his eighth visit to China, Tim Cook, CEO of Apple Inc, was in Beijing again on Monday.
"Nihao, Beijing! It's great to be back. Started my trip today by visiting with the incomparable Guo Pei - such exquisite care and craftsmanship in her work. Thrilled to see how her team is using iPad Pro as Guo Pei designs her new collection," Cook posted his greeting on Twitter-like Sina Weibo on Monday night and revealed his visit to Chinese fashion designer Guo Pei.
Guo Pei is a rising Chinese designer star, famous for her wedding dress series and her success at the Met Gala in New York last May.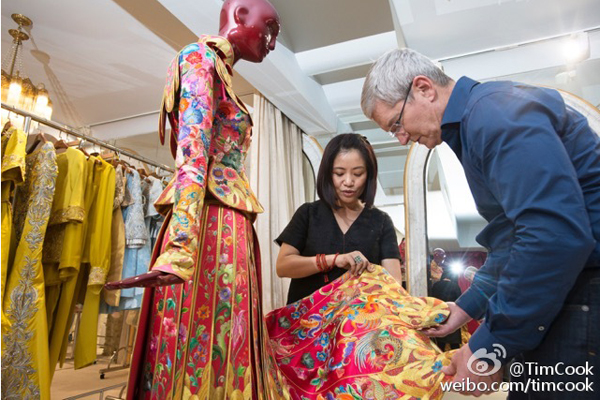 Guo Pei shows her design to Tim Cook in Beijing, August 15, 2016. [Photo/Weibo]
Before his ninth visit to China, in his latest interview with The Washington Post, Cook discussed his first five years in Apple, one of the world's most glaring spotlight companies, and talked about China.
"So as I look in the long term, I think China is an unbelievable market — not only from a demand point of view and the revenue potential there, but also as a great source of talent," Cook said, according to The Washington Post.
He said Apple has over a million and a half developers in China and the reach is unbelievable.
Answering to Apple's 33 percent down sales in China in the most recent quarter, Cook said, "There are, sort of, speed bumps now with the economy. In a year-ago quarter, we were up 112 percent. So I think you have to back up and put it in perspective. If you look at it over a two-year basis, we were up over 50 percent in the quarter."
In his eighth visit to China, Cook had met with Chinese developers and Liu Qing, president of Didi Chuxing, the largest ride-hailing service provider in China, after Apple announced its $1 billion investment in Didi Chuxing.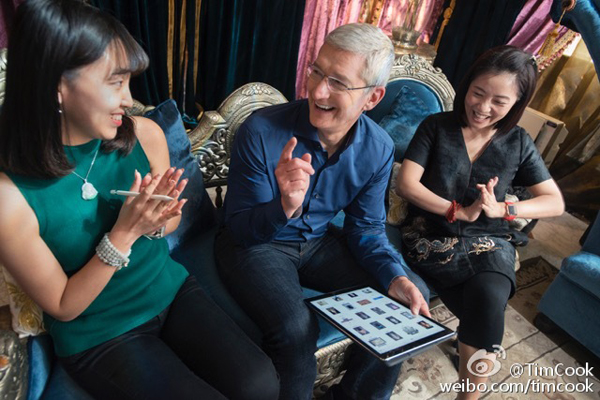 Tim Cook holds an iPad showing pictures of Guo Pei's designs in Beijing, August 15. 2016. [Photo/Weibo]