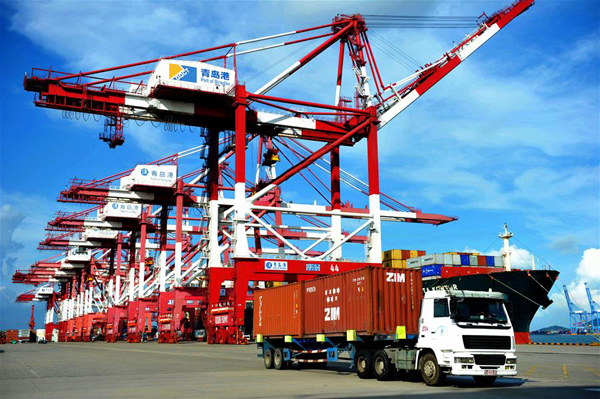 A truck transfers containers at Qingdao port in Qingdao, East China's Shandong province, Aug 8, 2016.[Photo/Xinhua]
BEIJING - For a massive economy like China's, which is in the midst of transition, it is easy to dwell on fragmentary data while failing to see the forest for the trees.
While the latest official indicators of traditional growth engines have underperformed, those measuring the new drivers of the Chinese economy suggest a silver lining.
Old engines losing steam
Growth in retail sales, industrial output and investment all decelerated from June levels, official data showed Friday, adding to concerns that the Chinese economy might be faltering.
Customs data published earlier showed July exports contracted by 4.4 percent from a year ago while imports plunged 12.5 percent.
Economists said the slowdown is expected if not desirable, given the side effects of the government's efforts to cut overcapacity, destock, deleverage, reduce corporate costs and shore up weak spots, five major tasks high on the agenda.
Li Daokui, an economics professor at Tsinghua University and a former adviser to China's central bank, expects a painful adjustment period in the near term as the country shoulders the costs of restructuring.
The dragging effect of the restructuring program can be seen in the efforts to slash overcapacity.
In the first six months of 2016, China reduced steel production capacity by 13 million tonnes and coal capacity by over 72 million tonnes, official data showed.
Short-term strains have resulted as China speeds up reform, said Zhao Xijun, vice head of the school of finance at Beijing-based Renmin University.
New engines gain momentum
Monthly dips in growth should not justify panic over the world's second largest economy, Zhao said.
The economy is actually emerging stronger with solid improvement in structural reform and new growth industries, official data showed.
Against the backdrop of lackluster industrial production, output of the high-tech industry climbed 12.2 percent in July, accelerating from June's 10.6-percent increase and more than double that of the entire industrial sector.
New-energy car production surged 88.7 percent and revenues of strategic emerging service sectors gained 15.6 percent year-on-year in the first half of the year, according to data from the National Bureau of Statistics (NBS).
Meanwhile, with an annual expansion of 40 percent, China's sharing economy market, including Internet-based ride-hailing businesses, will account for more than 10 percent of the country's GDP by 2020, according to an Internet Society of China report.
The service sector expanded 7.5 percent in the first half, accounting for 54.1 percent of the overall economy, up 1.8 percentage points from a year earlier, according to NBS data.
Investment in energy-intensive industries also continued to cool down, resulting in a year-on-year decline of 5.2 percent in energy consumption per unit of GDP in the first half.
Thanks to new growth engines, the Chinese economy generated 7.17 million new urban jobs in the first half of 2016, according to the Ministry of Human Resources and Social Security.
Li of Tsinghua University pointed to stable administration and policies, increasing human capital and further opening of the economy as three major advantages for China to achieve sustained growth.
The country's growth in the next two decades will mainly be driven by urbanization, consumption and industry rearrangement, Li said.
Challenges still daunting
If China continues its current supply-side structural reform, and carries out pro-reform and stabilizing measures, its economy will continue to improve, said Zhao.
However, the challenges should not be underestimated, as it is not easy for a huge ship to change course overnight, experts said.
Take the overcapacity cuts in the steel sector as an example.
In the first six months, China completed only about 30 percent of the planned cuts for the whole year. Warming steel prices had watchdogs on alert for a rebound in production capacity as crude steel output surged.
A price rebound means local officials have balked, with some deciding to defer capacity cuts. Creating new jobs for hundreds of thousands of laid-off employees and the massive debts of steel enterprises pose tough challenges ahead for cutting overcapacity.
However, the economy has embarked on an irreversible path of restructuring, and the transition, which is crucial to the country's supply-side structural reform, is bound to forge ahead, experts said.
The International Monetary Fund (IMF) on Friday issued an affirmative forecast, expecting a positive outlook for the Chinese economy and predicting 6.6-percent GDP growth for this year.
China's economic transition will continue and will be positive overall for the global economy, the IMF said in a report after concluding its annual economic health check on the Chinese economy.
"Many countries could only dream of achieving growth rates that China has and is likely to achieve, which also reflects positively on the reforms that Chinese policymakers have undertaken," said James Daniel, the IMF mission chief for China.