Apple to set up two more research centers in China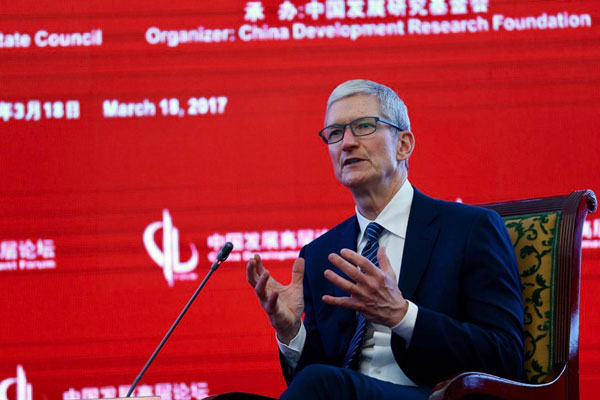 Apple CEO Tim Cook (right) speaks at the 18th China Development Forum (CDF) in Beijing on March 18, 2017. [Photo/VCG]
Apple Inc is to set up two more research and development (R&D) centers in Shanghai and Suzhou, following Beijing and Shenzhen, said the head of the US tech giant.
"Talents are China's greatest treasures. Workers in the manufacturing industry, app developers and designers can help Apple develop in China," Apple CEO Tim Cook said at the 18th China Develop Forum on Saturday in Beijing.
Apple has committed to invest 3.5 billion yuan ($500 million) in the centers, according to an announcement on the company website.
Apple's growing engineering and operation teams in China will focus on cooperating with local partners, according to the announcement.
Apple's R&D centers in China will seek graduates of China's leading universities including Peking University, Tsinghua University and Shanghai Jiao Tong University. Apple has been working with these universities on internship programs.
By expanding R&D in China, the company looks forward to working collaboratively with more local partners and academic institutions, said Dan Riccio, Apple's senior vice president of Hardware Engineering.
Cook also said that while Artificial Intelligence has already changed our lives, it might take five years for Augmented Reality (AR) to truly enter people's lives. He explained that AR can only be achieved by more and bigger technical breakthroughs because the fittings, such as sensors, displays, and even batteries, all need to meet new requirements.