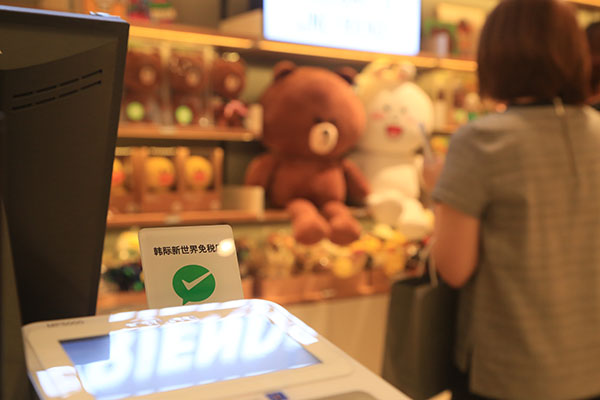 The WeChat Pay sign in a South Korean duty free shop. Photo undated. [Photo: thepaper.cn]
At Myeong-dong, a primary shopping district in Seoul, South Korea, WeChat Pay or Alipay, two of the most used mobile payment apps are available for Chinese customers. The apps are widely available in duty free shops in South Korea, thepaper.cn reports.
"We made a consuming environment similar to China," a director of Shinsegae Duty Free Shop at Myeong-dong said. "We introduced WeChat Pay when we opened this shop in May. Now about 20% of the total sales come through WeChat."
The use of such Chinese apps is convenient to Chinese customers. "I didn't expect I could pay with WeChat abroad, and I can also enjoy a 5 percent discount as I pay by China UnionPay Card," said a Chinese customer.
WeChat Pay is also accepted in restaurants, cafes and clothes shops.
The manager of a famous Korean barbeque restaurant said that the Chinese make up about 80% of their customers, and 80% of them pay by WeChat.
In China, payment apps are well developed, and the shopping demands of Chinese customers overseas build an opportunity for the apps to explore the market abroad.
The overseas use of WeChat Pay is still in the hands of Chinese customers, said WeChat Pay operation director Huang Li. "We promote our services to where the market is, this means finding the favorite shopping places for Chinese customers."