Sino-British ties have entered a 'golden era'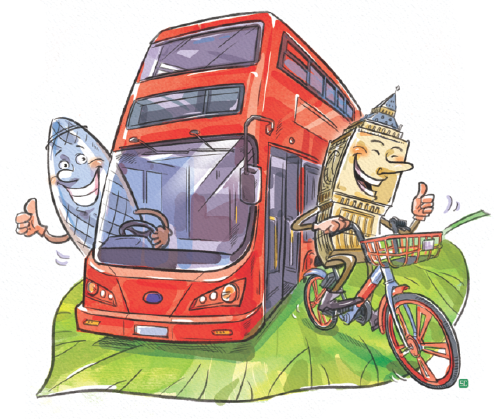 SONG CHEN/CHINA DAILY
Just under two years ago, with then UK prime minister David Cameron looking on, President Xi Jinping declared that relations between China and the United Kingdom were entering a "golden era".
Just last week, I climbed aboard a London bus outside my office.
So how are these two events linked?
Easy! When I got on board the iconic red single-decker, I realized something was missing: the noise of the roaring diesel engine usually located at the rear of the vehicle. That's when I also realized I was on a Chinese-designed BYD bus, electric-powered and a perfect example of Xi's statement.
Just to reinforce the concept, Xi reiterated the remark to Cameron's successor, Theresa May, on the sidelines of the G20 summit in Hamburg, Germany, last week.
And it's true-it seems that everywhere you look in the UK these days, a Chinese project is taking shape.
But let's go back to my bus trip for a moment.
London bus drivers are a remarkably cosmopolitan group, men and women of all cultures-Vietnamese, East Europeans, Africans, West Indians and more.
I asked the driver, a Briton called Bill, what he thought of the new vehicle.
"When I compare it to the rattling old Mercedes I used to drive, it's no contest. Quiet, smooth, easier to drive, and the passengers seem to like them. No problem, mate."
There will initially be 30 of the BYD-ADL Enviro models, joining 22 experimental Spanish-built vehicles. To say they are state of the art is understating it. A large TV screen alerts passengers up to five stops ahead, and also gives details of any problems on London's rail services, including the TfL Underground, or Tube.
And just to remind you these are designed by gadget-conscious Chinese, 12 of the seats have USB ports to allow you to charge your smartphone or your tablet. Never seen that on a London bus before.
Range anxiety, it seems, is not an issue. "I can do my shifts and still get back to the depot to plug in," said driver Bill.
Buses aren't the only form of London transportation facing revolution, Chinese-style.
Geely, the owner of London Taxi Co, which makes the so-called black cabs that dominate London's streets, has unveiled a hybrid version, and London Mayor Sadiq Khan says all new cabs will have to be hybrid by 2020.
In fact, it was Geely's Volvo unit, the Swedish brand famous for its rugged estate cars and four-wheel drives, that stunned everyone by saying it was winding down production of petrol and diesel vehicles and switching to either all-electric or hybrid models.
When you couple that with France's announcement that sales of new petrol and diesel cars will be banned by 2040, you have an idea of the size of the revolution facing travelers, all inspired by the Paris climate agreement, which most of the world's countries have signed on to.
And China is a fervent supporter of the Paris accord.
So what other evidence is there of the "golden era"? Chinese bike hire companies have already reached the UK.
But two huge developments were detailed in the past few weeks: Dalian Wanda Group unveiled a huge extension of its Nine Elms development in London's Vauxhall area, and ABP, founded in China in 2003, is planning a major business development in London's Royal Docks, right next to East London's London City Airport.
No doubt there's more to come.
The author is managing editor for China Daily in Europe. chris@mail.chinadailyuk.com