China's fintech boom a wake-up call for regulatory tech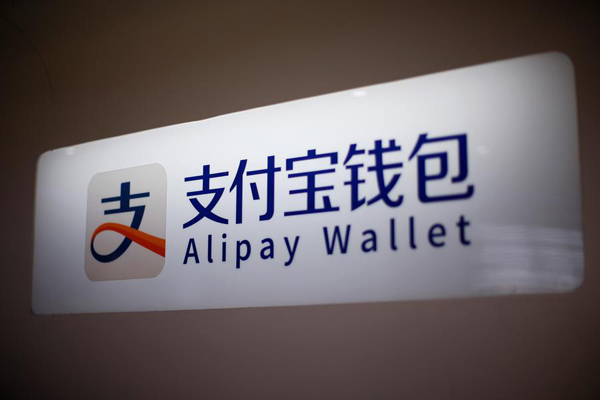 An Alipay logo is seen at a train station in Shanghai, February 9, 2015. [Photo/Agencies]
A deadline is looming for China's internet finance industry, as a one-year grace period for the fast-growing online lending market to comply with new rules expires in mid-August.
By some estimates, just one in 10 of the country's thousands of peer-to-peer (P2P) lending platforms will survive under the much stricter requirements.
As China continues opening up and encouraging innovation as it builds its new economy, its private sector has become the envy of the world in areas such as e-commerce and digital payments. The pending P2P lending shake-up highlights how, in some areas, regulations are beginning to catch up.
In addition to the internet finance measures, the government in October issued a policy document pledging to improve supervision over the online finance market, including P2P platforms, to reduce risks and support its healthy development.
These steps are timely. A global survey by HSBC in May found even as Chinese consumers lead the world in trusting new technology, they were no less demanding, especially of data security. Out of about a 1,000 respondents, 53 percent said they would leave their bank if their personal data leaked, the highest among 11 markets surveyed.
It can be a tough balance to maintain, as participants at China's annual Lujiazui Forum on Finance held in June pointed out. At a dedicated session on financial technology (fintech) and regulation, a major source of concern was how China can stay innovative without hobbling the fintech sector with new regulations.
On the other hand, regulations can also create opportunities for financial and technology companies that focus on using tools such as cloud computing, blockchain, and artificial intelligence to help the financial market navigate and comply with regulations.
In fact, while fintech has hogged the limelight around the world over the past few years, its less glamorous cousin "regtech", or regulatory technology, has also started to gain attention in China.
At conferences in Beijing and Qingdao in June, the director of the People's Bank of China's Financial Research Institute, Sun Guofeng, said China needs to develop regtech, especially through the use of cutting-edge technologies such as artificial intelligence, in order to make regulations work more efficiently and effectively.
A study by Deloitte shows that most regtech firms today tend to focus on applications in five business-focused areas, namely regulatory reporting, risk management, compliance, transaction monitoring, and due diligence tools used in "Know Your Customer" procedures and financial crime control.
Such applications will become increasingly crucial as internet finance grows, especially in China.
According to McKinsey, China's user base for online finance such as digital payments and wealth management has grown much faster than its wider internet population. That's having a huge economic effect, as the internet economy grew to make up 7 percent of China's GDP in 2015, compared with between 4 to 5 percent for the US, Japan and Germany, the consultancy estimates.
For global financial institutions, investing in technology is now a prerequisite to thriving, and major banks are increasingly at the forefront of spending on fintech and regtech, sometimes even as much as what the largest tech companies spend on R&D.
Since 2012, the top 10 US banks have invested a total of $3.6 billion into fintech companies, according to CB Insights, a consultancy. A group of 12 international banks and insurers, including HSBC, have joined up with Accenture in Hong Kong to support and mentor new technology companies in a Fintech Innovation Lab.
Among the startups to join the lab last August was KYC-Chain, a Hong Kong-based company that uses technology such as biometrics and blockchain for "Know Your Customer" processes including client onboarding and identification.
Even some operators from China are getting into the action. For example online insurer ZhongAn -- whose founders include Chinese payment giants Ant Financial and Tencent -- last November started a fintech company to offer technology solutions such as anti-fraud and credit risk services for customers.
As much as countries are looking to learn from China's digital advancements, the country can also look overseas for lessons in how to regulate fintechs without killing innovation.
For example, the UK and Singapore operate so-called "regulatory sandboxes", which allows innovative products to be tested in a live environment, while setting limits and safeguards to protect customers. UK regtech startups have developed applications for compliance, data analytics and risk evaluation, solutions which could potentially be used in China.
These are exciting times for the financial industry in China, with disruptions to traditional operators by upstart fintechs increasingly turning into collaborations. Indeed, three tie-ups were announced within a week in June between major Chinese State-owned banks and tech giants such as Tencent and Baidu.
At the same time, all this rapid change underlines the need for close attention to be paid to security and individual privacy, and comes as a useful wake-up call for China's nascent regtech scene.
None too soon, as financial institutions and fintechs strive to work together to make customers' experiences simpler, better, faster and more secure.
David Liao is President and CEO of HSBC China.