Chinese envoy hails China-UK cultural exchanges in new photography exhibition
The photographer Qiao Yu's snapshots of China's rivers and mountains and capturing the everyday day lives of the country's residents were displayed, for the first time, at the On the way to China exhibition in London.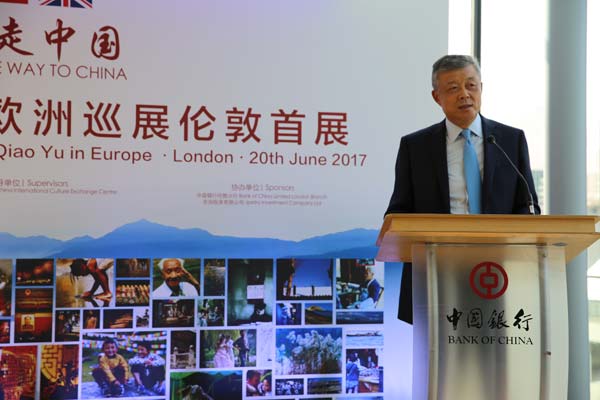 Liu Xiaoming, China's ambassador to the United Kingdom during the exhibition. [Photo by Bo Lueng/chinadaily.com.cn]
Liu Xiaoming, China's ambassador to the United Kingdom said Qiao's work has shown the Chinese photographer's efforts on promoting the friendship between China and the UK.
"His works are full of deep meanings, creativity and emotion," Liu told visitors at the exhibition and described the photographs as poetic and full of creativity.
Liu recalled both he and Qiao were members of the All-China Youth Federation and the Youth Federation of Central Government Departments, although in different year groups, and both also share a passion for photography.
But Liu pointed out that even though Qiao is a professional and he is not, they still discuss the subject and learn from each other.
"Not only does On the way to China present the grand natural scenery of China to the UK, it also depicts the Chinese people's aspirations of pursuing happiness and peace," Liu noted.
Liu said that the emotion Qiao expressed in his photographs shows his deep love for China and the people, adding it is exactly the kind of sentiment a poet would have.
The Chinese envoy highlighted the 45th anniversary of the establishment of China-UK ambassadorial diplomatic relations and Sino-UK relations entering a golden age of strategic partnership with cultural exchanges playing an important role for these relations, which includes Qiao's exhibition.
Some 150 pieces of work selected by Qiao are on display. The photographer wanted to show China's rapid social developments over the last 20 years and the daily lives of ordinary Chinese people.
"I wanted to record social changes, to reflect the life of local people and to capture impressive moments," Qiao explained, "Photography is powered by the combination of techniques and arts."