Suspect shot after explosion at Brussels train station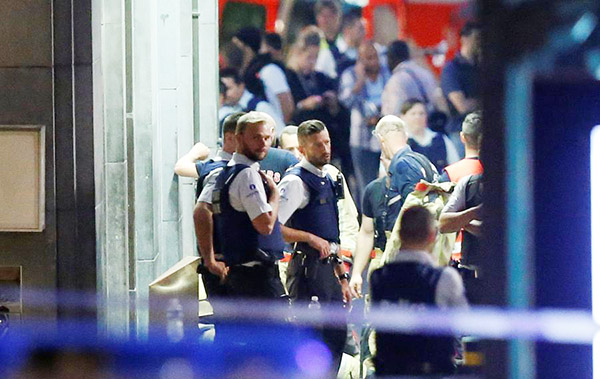 Belgian police take up position following an explosion at Central Station in Brussels, Belgium, June 20, 2017. [Photo/Agencies]
BRUSSELS — Soldiers shot a suspect in the heart of Brussels after a small explosion at a busy train station Tuesday night continued a week of extremist attacks in the capitals of Europe.
A bomb squad performed a controlled explosion of a bomb belt the suspect had at the Central Station and was checking to see if there more hazards, VTM network reported. Authorities set up a wide perimeter around the station, located near the city's famed Grand Place square.
It appeared no one else was injured besides the suspect and the damage from the explosion was limited, Brussels prosecutor's office spokeswoman Ine Van Wymersch told VRT. It was not clear if the suspect survived.
Nicolas Van Herreweghen, who works for Belgium's national rail company, said the male suspect was very agitated, yelling about jihadists and then "Allahu akbar," Arabic for "God is great," before blowing up something on a baggage trolley.
He said the man appeared to be 30 to 35 years of age.
The government agency that owns Belgium's railways was warned by a train driver who saw people running across the rail lines inside the station, spokesman Arnaud Reymann told broadcaster RTL.
National newspaper La Libre Belgique quoted the prosecutor's office as saying the suspect was wearing a backpack and an explosive belt. The information could not be immediately confirmed. Photos posted on social media showed a small fire in the station.