Hungary must strengthen ties with China in area of health: minister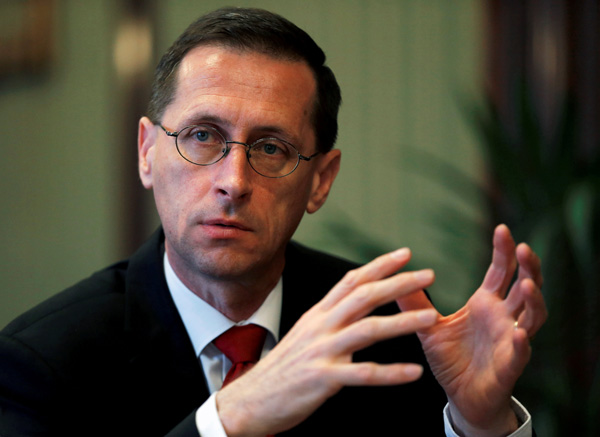 Hungarian Economy Minister Mihaly Varga attends an interview in Budapest, Hungary, May 31, 2016. [Photo/Agencies]
BUDAPEST - Hungary must strengthen its relations with China in the area of health, Hungarian Minister for National Economy Mihaly Varga said Tuesday, noting that Hungary considers China as a strategic partner in that particular domain.
"Health is one of the most important cornerstones of development, and contributes greatly to the economic growth," Varga said at the "Gateway to Health" conference and exhibition organized with the participation of 16 Central and Eastern European (CEE) countries and China.
The exhibition provides an opportunity for China and the 16 CEE countries to present their co-operation, research, development and innovation expertise in the fields of pharmaceuticals, medical technology, Industry 4.0., new technologies, medical and health tourism, as well as education.
It also brings opportunities for cooperation between knowledge centers, governments, enterprises and manufacturing bases, especially for pharmaceutical, medical technological, and biotechnological companies.
"Due to the changes in world economy, new growth centers have appeared, while the European Union finds itself imprisoned in a slow-growth trap where western countries will probably grow under 2 percent," Varga explained.
However, the CEE countries are able to achieve a double growth, as Hungary and other countries of the region can count with an economic growth of 4 percent or more, he added.
Varga praised the CEE region for its performance shown in the field of the medical and health industry, recalling that Hungary had been a frontrunner of the pharmaceutical business since the 2000s.
"China considers the CEE region as the engine of the growth of the EU, and we wish to step up health and medical cooperation on the level of regulations, patents, R&D and in the elaboration of common strategies," Minister of China's National Health and Family Planning Commission Li Bin said.