Committed to fighting human trafficking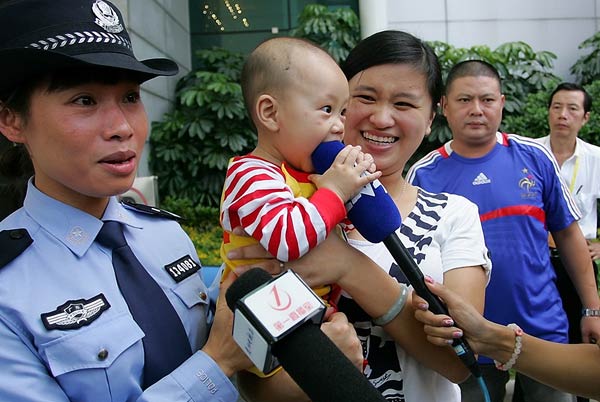 Huang Yuxian, an 8-month-old boy who was trafficked from Guangdong to a small village in Central China's Henan province, was rescued. His mother held him tightly in her arms at the airport in Guangzhou on Sept 23, 2012. Provided by Yangcheng Evening News
The seriousness of transnational human trafficking, especially the trafficking of women and children, makes close international cooperation absolutely necessary to address this heinous crime. As a signatory to international treaties on human trafficking, China has always attached importance to international cooperation in the fight against such transnational crimes. China signed the supplementary protocol of the UN Convention against Organized Transnational Crime aimed at preventing and prohibiting human trafficking, and punishing the perpetrators on Dec 26, 2009, and ratified it in February 2010.
As a UN convention, the protocol provides the legal basis for global cooperation in combating and preventing human trafficking. Till May 5 last year, China had signed 121 criminal, civil judicial assistance and extradition treaties with 67 countries. By September 2014, the Ministry of Public Security had established bilateral police cooperation mechanisms with 83 countries and regions to investigate and collect evidence in human trafficking cases, as well as extradite criminal suspects.
China has also formulated action plans for international cooperation to combat human trafficking. Its 2013-20 action plan, released in March 2013, sets concrete targets and measures for the global fight against transnational human trafficking and assigns different responsibilities to different departments.
On the multilateral level, the Public Security Ministry and the All-China Women's Federation started cooperating with international agencies, such as UN Children's Fund (UNICEF) and the International Labour Organization, to combat human trafficking. Since 1999, the ministry and federation have also been closely cooperating with UNICEF to especially combat trafficking of and violence against women and children.
In June 2000, China joined the UN Inter-Agency Project on Human Trafficking in the Mekong River Sub-region, which also includes Cambodia, Laos, Myanmar, Thailand and Vietnam. With funding from Save The Children UK, the National Working Committee on Children and Women under the State Council, the ILO and other agencies organized a symposium in Kunming, Yunnan province, in July 2004, to discuss how to intensify the crackdown on and prevent the trafficking of women and children in the Guangxi Zhuang autonomous region, and Yunnan, Sichuan, Guizhou and Anhui provinces. In October 2004, a Chinese delegation comprising officials from multiple departments attended a ministerial-level meeting in Myanmar to combat human trafficking in the Mekong River Sub-region, during which China signed memorandums of understanding with the other five countries on fighting human trafficking in the region.
Besides, China has also joined the Coordinated Mekong Ministerial Initiative against Trafficking which started in 2004, and approved a sub-regional action plan (2005-07) covering policy proposals for 11 projects. In December 2007, the Chinese government sponsored the second ministerial-level meeting on cooperation to combat human trafficking in the Mekong River Sub-region and signed a joint declaration with the other five countries.
Aside from multilateral cooperation, China has also effectively cooperated with neighboring countries on the bilateral level. For example, it has signed police cooperation agreements with Vietnam, Cambodia, Thailand, the Philippines, Myanmar and Indonesia to combat trafficking of women and children.
Since April 2004, the Public Security Ministry has held high-level consultations with police authorities from Vietnam, Myanmar and other neighboring countries on how to intensify the crackdown on transnational human trafficking and strengthen bilateral cooperation. And regular meeting mechanisms have been established and liaison offices set up in the border regions with other countries to facilitate cooperation in this area.
Moreover, China has signed an intergovernmental accord on anti-human trafficking with Myanmar, Vietnam, Laos, Cambodia, and maintained police cooperation with Angola, Congo, Indonesia, Spain, Austria and other countries, which have helped smash several transnational gangs involved in trafficking women and running prostitution rackets.
China's cooperation with the international community in the fight against human trafficking is reflected not only in its efforts to undertake global treaty obligations, but also in a series of bilateral and multilateral cooperation programs and concrete actions it has carried out.
The author is a professor at the School of International Studies, Peking University, and a council member of China Society for Human Rights Studies. The article was first published in the Overseas Edition of People's Daily.