Deepening ties at and beyond the Hamburg G20 summit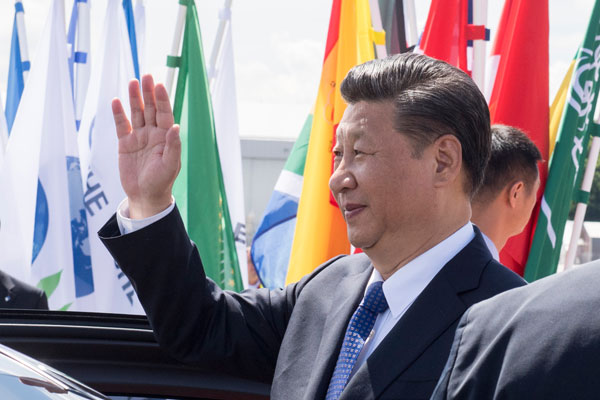 President Xi Jinping arrives in Hamburg, Germany, on July 6, 2017. [Photo/Xinhua]
As the world's foremost nations gear up for the G20 summit in Hamburg on July 7-8, Chinese President Xi Jinping is taking the opportunity to strengthen ties with two of his most important partners. Before the meeting of the world's twenty most important leaders begins, he made official visits to Russia and Germany from July 3-6.
Of course, it is no secret that in the last few years relations between China and Russia have been warming and strengthening. Frequent summits, not least in the conducive setting of the Shanghai Cooperation Organization, have led to a steady increase in levels of mutual trust.
In addition, the partners have realised that their economic fortunes are interdependent. China needs oil and natural gas to feed its economic boom, and Russia needs to sell the same commodities, which are its largest exports. There is a natural fit.
However, energy is not the whole story. As global powerhouses which tend to be seen in a negative light by Western countries, Russia and China need each other's support. They have also realised that they can benefit from improved infrastructure and trade networks.
China's Silk Road Economic Belt has Europe as an endpoint, and the shortest overland route is through Russia. The European Union is China's biggest market, and so working with Russia to improve railway links is desirable. Russia will also benefit from enhanced connectivity in the form of high-speed railways and a share in the profits generated by increasing amounts of goods passing through its territory.
There would seem to be no downside to better Sino-Russian relations as far as the partners are concerned. However, Presidents Xi and Putin do need to work hard to ensure that their cooperation is not seen as a threat by other nations if synergies between China's Belt and Road Initiative and Russia's Eurasian Economic Union are to be generated and maintained. The G20 in Hamburg could be a golden opportunity for China and Russia to demonstrate that their partnership is win-win not only for them, but also for others across Asia and Europe.
China's relations with Germany have also been on an upswing. In 2016 China became Germany's biggest trade partner for the first time. There are also clear opportunities for the two countries to collaborate on the research and development of new technologies with global market potential such as robotics and renewable energy. Never has China been more important for Germany.
At the same time, maintaining good relations with the EU's de facto leader is becoming increasingly vital for China's fortunes in Europe. With Britain now fading from the European scene thanks to Brexit, there is no doubt that Chancellor Angela Merkel is now the most important individual in the European Union.
As Xi Jinping looks to gradually develop China's connectivity with Europe via the Belt and Road Initiative, a good working relationship with Chancellor Merkel is therefore a must. This trip represents a chance to consolidate gains already made in previous meetings.
The fact that Mrs Merkel has visited China nine times since she became Chancellor in 2005 is also indicative of how significant she believes the development of good relations to be for both sides. This is evidence that discussing further cooperation in trade and investment is likely to be high on the agenda during Xi's visit.
By the time the G20 arrives, then, the Chinese president will have consolidated ties with China's two most significant partners along the route of the Silk Road Economic Belt.
It is therefore going to be interesting to see whether China, Russia and Germany quietly begin to form a new global power triumvirate investing in enhanced economic linkages and transforming technological development during the next decade or so. Studying the proceedings of the G20 summit carefully could reveal the first signs of a shift in the centre of globalised gravity away from the North Atlantic and towards the centre of the Eurasian landmass.
Jeremy Garlick is a lecturer in international relations at the Jan Masaryk Centre for International Studies, University of Economics in Prague.