Smartphones cry out for too much of our attention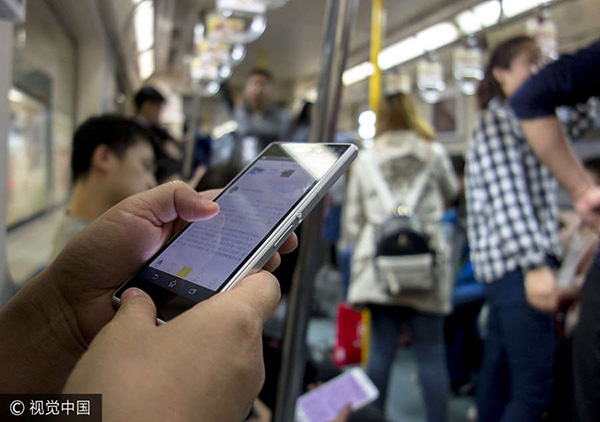 A Beijing resident uses a mobile phone on the subway, June 25, 2017. [Photo/VCG]
"THEY SAY I am their baby. But I think the smartphone is their baby, not me." This comment an 11-year-old girl wrote in her summer vacation diary was posted online by her mother, arousing heated debate. Hebnews.cn comments:
There have long been calls for parents to put down their smartphones to be with their children, but at least for now such calls do not seem to have been heeded. People are still addicted to their smartphones.
Many worry that smartphones are ruining the relationships between parents and their children. The logic is simple: Parents have limited time and energy and if they spend too much time on their smartphones, they will naturally have less time to spend with their children.
It is true that many young parents spend little time with their children, but smartphones alone are not to blame for this. Young parents, mostly born in the 1980s or early 1990s, tend to give more attention to what they are interested in rather than performing their responsibilities as parents.
Their sense of responsibility to their families is not as strong as that of their parents.
Besides, many young parents tend to buy commercial services from the market as a way of honoring their responsibilities to their children. For example, they spend money on baby education courses rather than spending enough time teaching them themselves.
For young parents, it is important for them to learn how to spend more time with their children. They need to have the patience to learn how to be good parents so that their kids can grow up in a healthy manner, with their parents as role models when it is their turn to raise kids.