British luxury smartphone maker to use Chinese chips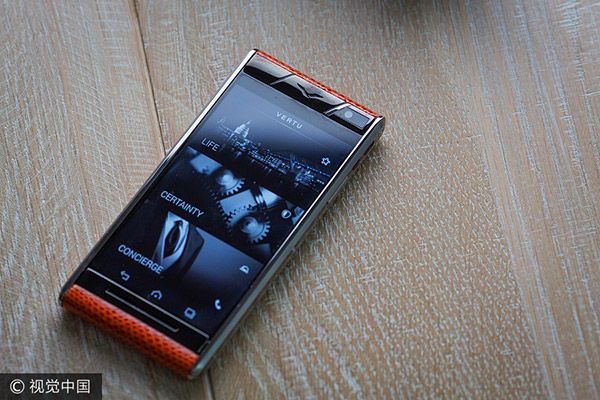 A Vertu Aster luxury smartphone sits on a table. [Photo/VCG]
Vertu, one of the world's leading manufacturers of luxury mobile phones, has announced that it has signed an agreement with TCL Communication.
This is the first agreement signed by Vertu since the company was purchased by entrepreneur Hakan Uzan in mid-March of 2017. This agreement, worth $40 million, will enable Vertu to "use advanced and innovative technology from TCL Communication for 30,000 handcrafted Vertu phones".
Speaking from the new corporate offices of Vertu AK France in Paris, Hakan commented, "We are delighted to have signed this agreement with TCL Communication. It is the first of many, considerable investments we are making into the business. TCL Communication is a valued partner of Vertu and we hope that this will be the start of a prosperous new chapter in our relationship."
Today's announcement is seen as a first step in helping Vertu enable its full potential as a powerful global brand. Under new patronage and the leadership of Hakan, Vertu is going through a substantial restructuring and modernisation of all its business units, whilst preserving the heritage and craftsmanship it is renowned for around the world.
"Customers will have access to limited, special edition Constellation X products as soon as mid-July, with full ramp up by early September. The new generation of Vertu Concierge Services will start being introduced in mid-July in limited markets, with a new wide ranging portfolio of Vertu Life Style Products becoming available in Vertu Boutiques in early September," Hakan added.
"As a leading smartphone innovator, TCL Communication is very pleased to extend our successful relationship with Vertu," said Alain Lejeune, Senior Vice President of TCL Communication. "Combining our advanced smart phone technology with Vertu's superb craftsmanship and commitment to superior design and performance, it will help create an outstanding experience for its discerning customers."
Vertu AK France, the parent company, is aiming to launch new services and products in September, alongside announcing several exclusive luxury partnerships with leading global brands. The new products will be sold in the key luxury markets of France, UK, China, Asia, Russia, Western Europe and the Middle East.
While the company has moved its corporate offices to Paris, all Vertu products are designed and manufactured in the UK, with around 90 percent destined for export markets. The company has operated from its Hampshire base since 2000, shipping its first phone in 2002. To date, Vertu has sold more than 500,000 devices worldwide. The new Vertu phones have an entry selling price of 7,500 pounds and the company has more than 225,000 registered users.
One Vertu phone, the Signature Cobra, is on sale for $350,000. The highlight of the Vertu Signature Cobra feature phone is that it has been designed by a France-based jewellery brand, Boucheron. Other highlights of the new Vertu phone include the 439 rubies inlaid in the device, fitted in a cobra design. As the name suggests, the phone features a cobra design around the front and the eyes are 2 emerald stones.