China-US dialogue displays shared will to work together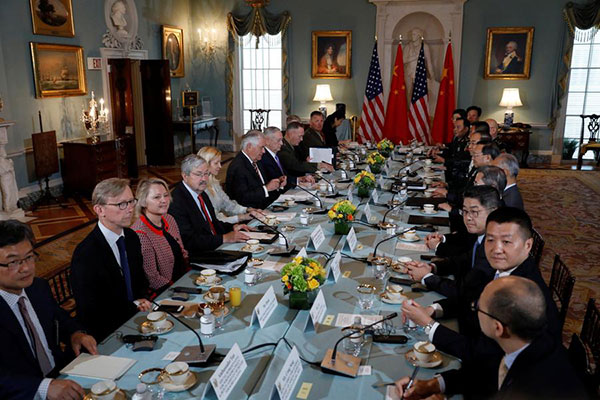 US Secretary of State Rex Tillerson and Defense Secretary James Mattis meet with Chinese State Councilor Yang Jiechi and General Fang Fenghui, chief of the People's Liberation Army's Joint Staff Department prior to the US-China Diplomatic and Security Dialogue at the State Department in Washington, US, June 21, 2017. [Photo/Agencies]
The Korean Peninsula, the South China Sea, terrorism, military-to-military cooperation ... the list goes on.
Any of such topics of bilateral, regional and global concern raised at the table of the maiden China-US Diplomatic and Security Dialogue could have consumed the daylong session. Especially, the Korean Peninsula issue, as the tragic death of Otto Warmbier added fuel to public outrage at the Democratic People's Republic of Korea, raising concerns the dialogue might get mired in who is to do what next.
Such worries proved unfounded, however. And the opening installment of the brand-new mechanism of China-US engagement was successful, sustaining the constructive atmosphere from the summit between President Xi Jinping and his US counterpart Donald Trump at Mar-a-Lago in early April, and adding optimism to the three other components-economic, law enforcement and cybersecurity, and social and culture-of the China-US Comprehensive Dialogue.
Beijing and Washington have plenty of thorny, pressing tasks at hand, many of which can't be accomplished without both being involved, and committed simultaneously. That Xi and Trump seem to get along well and China-US relations have so far fared well in the Trump era are reassuring signs that essential lessons about this particular relationship have been learned.
Many longstanding issues keep haunting China-US relations not because Beijing and Washington lack the wisdom, or tools to resolve them, but because they are lacking the mutual trust and political will to work together.
It would certainly be misleading to assume Beijing and Washington will be happy together hereafter, though both pledged goodwill and collaboration. However, considering the arduous job of forging mutual trust, there was nothing more to expect from Wednesday's dialogue. And, at the end of the day, what truly matters is their consensus to manage and control their differences on the basis of mutual respect.
In fairness to both parties, Beijing and Washington have made attempts to jointly handle issues of common concern, including the denuclearization of the Korean Peninsula. But more often than not, they keep getting ensnared in their differences at critical junctures.
Such a state of affairs may be understandable between a rising power and an incumbent one, which is how China and the US are portrayed in the age-old framework of a big-power struggle.
So the diplomatic pragmatism the Chinese and US leaders have demonstrated so far is welcome as it may usher in more benign interaction that cultivates goodwill via case-specific collaboration. For their interests are not intrinsically contradictory, it is their mutual suspicions that they need to overcome.
The latest dialogue just affirmed their shared will to try and do so.