Kenyan railway new milestone for China-Africa cooperation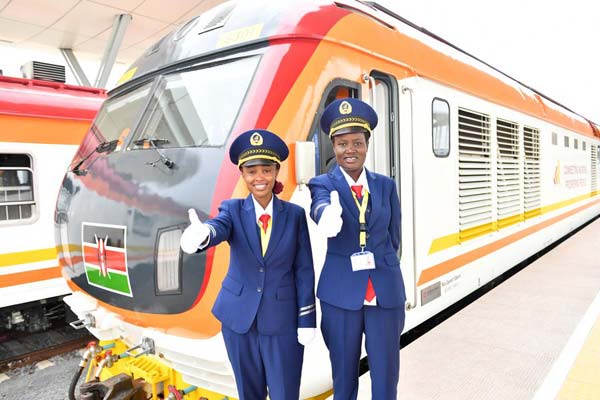 Two female engine drivers gesture before the operations of the Standard Gauge Railway (SGR) in Mombasa, Kenya, on May 31, 2017. Kenya began operations on the Chinese-built Standard Gauge Railway (SGR) Wednesday. [Photo/Xinhua]
The official launch of the China-funded and built standard gauge railway in Kenya on Wednesday, which links its port city of Mombasa with the capital Nairobi, marks the beginning of a new era for the East African country's industrialization and economic development.
Moreover, it is a pivotal part of China's Belt and Road Initiative that encompasses a grand infrastructure connectivity plan to build a high-speed railway network that will eventually link Kenya with Uganda, Rwanda and Burundi.
With a designed speed of 120 kilometers per hour for passenger trains and 80 km/h for freight trains, the 480-km railway replaces the narrow-gauge line built more than a century ago during British colonial rule.
Thanks to the $3.8 billion new railway, Kenya's largest infrastructure project since independence, cargo transport costs will be reduced by nearly half compared with the cost of road transport, according to Kenya Railways Corp. This will help bring in foreign investments along the route and facilitate the country's quest to become an industrial, trading and tourism hub in East Africa.
It is predicted the railway will boost Kenya's GDP by 1.5 percentage points annually. Not to mention how much Kenya has already benefited in terms of jobs created and technology gained.
The bonds of friendship between China and Africa in contemporary history have been forged over decades, symbolized by the 1,800-km Tanzania-Zambia Railway built and financed by China in the 1970s in the heat of liberation struggles by African people against Western colonists.
If the two peoples were drawn together by common historical sufferings and similar stage of development then, the current momentum of cooperation is being fueled more by their growing interdependence.
African countries look to China for support to achieve their aspirations in terms of poverty alleviation, economic growth and sustainable development, while China, after decades of miraculous growth, has development experience to share with Africa. Bilateral production capacity cooperation in such fields as manufacturing, electronic appliances and textiles can also benefit African countries.
As President Xi Jinping has stated, China is committed to connecting its development with that of Africa, aligning the interests of the Chinese people with those of African people and combining China's development opportunities with those of Africa.
It is this sense of shared destiny and future that has laid the foundation for the win-win cooperation based on equality and mutual benefit between China and Africa, as reflected in the Kenyan railway project.