Kenya expands infrastructure with new Chinese-built train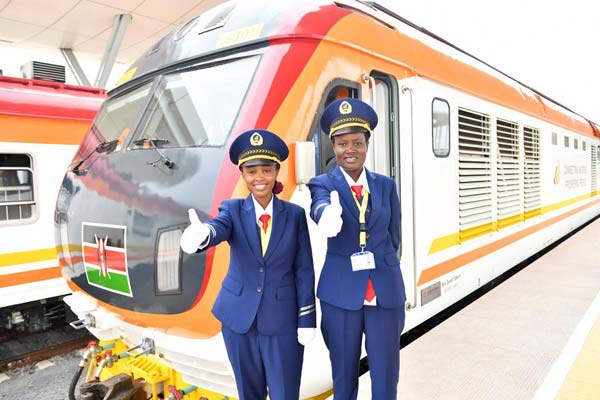 Two female engine drivers gesture before the operations of the Standard Gauge Railway (SGR) in Mombasa, Kenya, on May 31, 2017. Kenya began operations on the Chinese-built Standard Gauge Railway (SGR) Wednesday.  [Photo/Xinhua]
Kenya launched a major Chinese-African project, the Mombasa-Nairobi standard gauge railway (SGR) on Wednesday, just a day before the June 1 national holiday that commemorates the 54th anniversary of the country becoming a sovereign state.
President Uhuru Kenyatta said the $3.80 billion infrastructure will be called the "Madaraka" Express, which means freedom in Swahili.
"We celebrate a new beginning, a new chapter to Kenya's history by building an infrastructure more than a century after the Kenya-Uganda meter-gauge railway was laid down by the colonialists," he said during the launch ceremony in Mombasa, the country's second largest city. "It formed the basis of a new nation and we are building on that."
Wang Yong, special envoy of President Xi Jinping and a State Councilor of China, spoke at the ceremony, which was attended by hundreds of Kenyans, and said that Chinese President Xi Jinping is excited that the railway is now operational.
"This railway connecting Mombasa and Nairobi is an important early-harvest outcome of the Belt and Road Initiative put forward by Xi, as well as the 10 cooperation plans of the FOCAC Johannesburg Summit. It is also a landmark project in China-Africa cooperation on regional networks of high-speed rail, expressway and aviation, African industrialization and industrial capacity," Wang said in Mombasa.
"The launch of this regional transportation artery is a testament that the China-Kenya friendship has entered into a new era of mutually beneficial cooperation," he said.
It will stimulate the economic and social development of Kenya and the region, facilitate connectivity in East Africa, accelerate African industrialization and promote "Belt and Road" cooperation in Africa's inland areas to benefit local people, and hence is of high and profound significance, Wang added.
He noted that with a commitment to quality, the Chinese company involved has demonstrated, with concrete actions, Chinese quality, Chinese speed, Chinese solution and Chinese spirit. That sets an example in implementing China's policy of sincerity, real results, affinity and good faith in developing relations with African countries and in upholding the values of friendship, justice and shared interests, as set out by Xi.
During the construction of the $3.8 billion project, China provided 44,000 training opportunities to local employees, helped train over 3,000 railway technicians, and laid out a plan for building a railway technical academy, indicating the Kenyan people are fully involved in building, promoting and benefiting from railway development.
The railway's launch will make transport between the capital city and its largest port city more convenient, significantly lower the logistics cost and boost industrial development and economic prosperity along the route.
The passenger train will run at speeds of 120 kilometers per hour while freight will move at 80km/h.
Contact the writers at Panzhongming@chinadaily.com.cn and Lucymorangi@chinadaily.com.cn