Young firefighter's life not lost in vain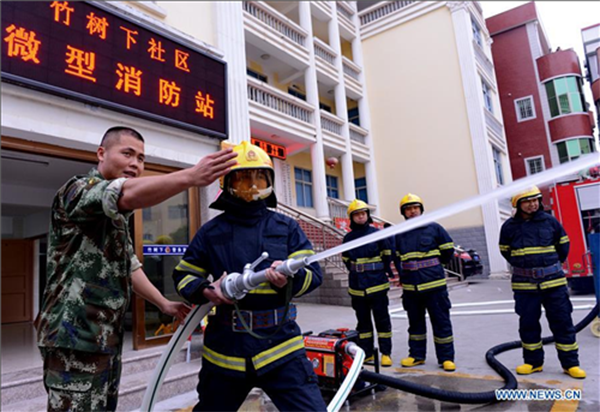 A volunteer firefighter learns to spray during a training at Zhushuxia Community in Jinjiang, southeast China's Fujian Province, on Dec 24, 2015.[Photo/Xinhua]
Editor's note: Yao Weijun, a 23-year-old fireman, lost his life while trying to save a 95-year-old woman from a fire in a house in Ningde, East China's Fujian province last week. His death has triggered a heated debate recently on whether a young man should risk his life to save a nonagenarian. Following are the views of two journalists and a scholar on the incident:
Every human life is worth saving
It's a big tragedy that both the young firefighter and the nonagenarian lost their lives in the fire. Since the 23-year-old firefighter could have had a brighter future, many believe his ultimate sacrifice was in vain as the 95-year-old also died in the fire.
However, his sacrifice should not be weighed in terms of gain and loss, because as a solider to serve the people, he has the moral and societal responsibility of saving, or trying to save, another person's life. To think otherwise is regressive, which could prompt people to not help those in need.
Fortunately, firefighters have never been confused with such questions. Whenever asked, the firefighters have said they have never hesitated even for a second or cared about their own lives before rescuing those trapped in a fire. This spirit has been on display every time a fire has broken out, including the devastating chemical explosion in Tianjin in August 2015.
We should respect the dedication and sacrifice of those firefighters rather than racking our brains over whether or not a young firefighter should risk his life to save a woman in her nineties. By drawing inspiration from firefighters' devotion and sacrifice, people can help build a better social atmosphere.
Xu Haidong, a writer with PLA Daily