Behind the popularity of firefighter calendar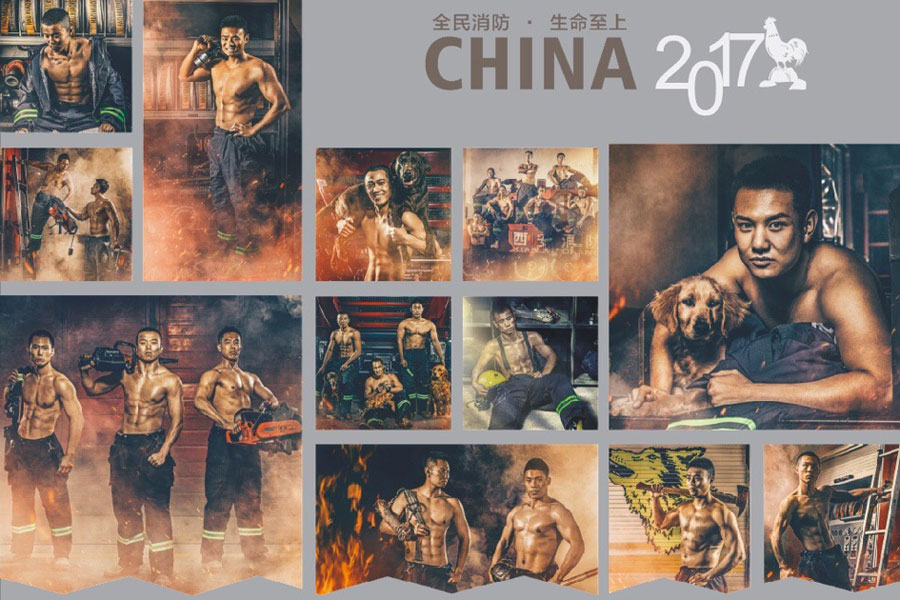 The cover of 2017 fire fighter-led calendar [Photo/Official weibo account of Shaanxi Provincial Fire Brigade]
At the end of last year, the Shaanxi Provincial Fire Brigade released a special desk calendar on its official Weibo account. The series of firefighter group photos stirred up a heated discussion on the social media platform.
"They are the most handsome heroes in every fire disaster by risking their lives to save victims in need," Sina Weibo user Linhaoyu said.
"Powerful these pictures look to be, I admire them more for their bravery, selflessness and loyalty, " another user, Dongbaoxin, added.
Now, the latest wave of appreciation has arrived from Japan. On the country's influential forum 2ch.com, many Japanese have demonstrated a strong interest in the calendar.
Here are some most viewed comments from Japanese netizens.
"Why doesn't our country have such a calendar?"
"I truly want to have a calendar like this. And I have already set one of the pictures as my phone wallpaper." "These firefighters are real handsome. I would prefer to spend more than 5,000 yen ($43.56) to purchase it."
After sharing their positive image of Chinese firefighters, some netizens expressed doubts that the men in the calendar are not real firefighters, but rather models.
"But the handsome men in the pictures are true grassroots firefighters", the Shaanxi Provincial Fire Brigade said. "Their toned, muscular bodies are the result of demanding daily training and dangerous rescue missions."
Meanwhile, according to Xinhua News Agency, firefighting is one of the most dangerous occupations in China. Every year, more than 30 firefighters die in the line of duty and over 300 are injured or even disabled. Also, with ever-increasing high-rise buildings and supermarkets, firefighters may be faced with more tough work in the future ahead.
"Behind the huge popularity of the firefighter calendar, more attention should be paid to the daily life and the spirit of these unknown heroes," a teacher told students in his class.