China starting to write the 21st century narrative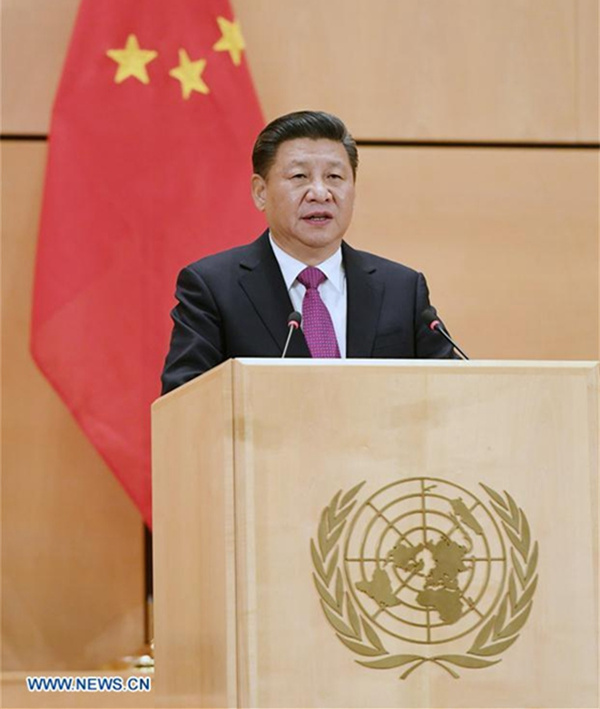 Chinese President Xi Jinping delivers a keynote speech at the United Nations Office in Geneva, Switzerland, Jan 18, 2017. [Photo/Xinhua]
When the United States gave up on the Trans-Pacific Partnership agreement, many saw it was more than the unwinding of a trade deal, and instead saw it as marking the limits of the Pax Americana.
US president-elect Donald Trump might be able to make his country great again, but even the resources of a booming America will be too stretched to continue underwriting the global order.
Going isolationist operationalizes an underlying reality, or, more positively, sets the stage, for the US to work out a more profitable geopolitical bargain.
The up-and-coming Pax Sinica faces the opposite challenge; ample resources but scant experience and no story, at least not yet. The 21st century requires a strong narrative from China. A genuinely successful Sino-Swiss FTA could be an important thread in China's narrative.
Order abhors vacuum and if the US withdraws, a superpower able to deliver the goods will be welcomed.
This week while Chinese President Xi Jinping was making global headlines with his strong statement for globalization, his deeds spoke even louder as China's State Council, the cabinet, liberalized services, mining and technology sectors. Of course, transitions to new orders are historically all but orderly.
For starters, the US might be skeptical of free trade arrangements but also scorn rival China initiatives. However, the US is not the ultimate consideration.
Nor can China inherit US-forged institutions and take them to new heights. China is not in a position to propose replacements for the TPP and the Transatlantic Trade and Investment Partnership. Unlike the US, it is in the process of transition, relying on forward-looking industrial policy to guide its economy through the treacherous middle-income trap. Thus China's offer will not include regulatory equivalency, open internet or labor standards, much less, limits on state subsidies and procurement, prime tools of East Asian state capitalism.
Less ambitious bilateral or regional trade arrangements would still add substantial value though. Another key is how wide sectors like telecom, finance, technology and others will be opened-up in China, since an attractive trade deal necessitates domestic reform. That means losers, as leadership abroad is inevitably linked with creative destruction at home.
Does a generous trade deal and prosperity constitute the entirety of China's narrative or will, if and when the US umbrella goes? Here the savoir faire related to crafting a stable comprehensive order and the attendant narrative emerges.
China can be extremely princely a partner as Philippines President Rodrigo Duterte can attest, but a case by case approach will not scale. Fortunately, China has also initiated the comprehensive and phenomenal Belt and Road Initiative. However, despite some very promising early elements such the Asian Infrastructure Investment Bank, plenty of conceptual works lies ahead.
What story can China propose? On Monday at a solemn signing ceremony, China and Switzerland committed to review and upgrade their FTA in two years. There is no doubt that both countries intend to make their FTA a comprehensive benchmark, but most importantly they will do so in the context of their "innovative strategic partnership".
Switzerland is today the world's most innovative nation while China's promise for tomorrow is to deliver innovation to the world. Now that is an attractive tale.
Beyond the official initiatives, non-State Chinese actors are also set to create new opportunities and massive new wealth around the globe by enabling and connecting people and enterprises.
The underpinnings of a Pax Sinica are being crafted. In the 21st century, the world expects a strong and whole narrative from China.
The author is a faculty member at the University of St. Gallen and its Institute for International Management (HSG-FIM).