The 21st century expects a comprehensive narrative from China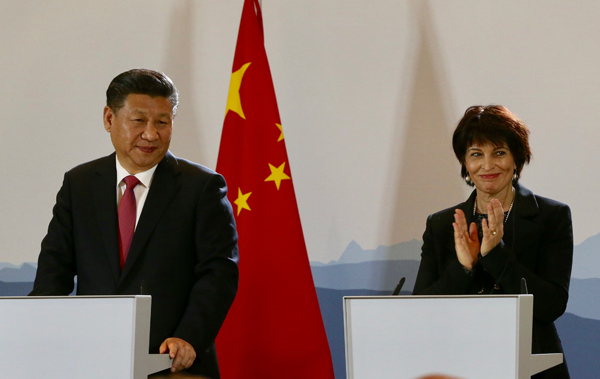 Chinese President Xi Jinping (L) and his Swiss counterpart Doris Leuthard meet the press after the two sides signed ten cooperative documents to boost cooperation in Bern, Switzerland, on Jan 16, 2017. [Photo by Xu Jingxing/chinadaily.com.cn] 
When during the course of 2016 US gave up on the TTP it was more than the unwinding of a trade deal. Many saw the limits of the Pax Americana. At the core of the US reset is the lack of a business model to sustain the most sophisticated and successful economic and geopolitical superstructure the world has seen. President Donald Trump might be able to make his country great again, but even the resources of a booming America will be too stretched to continue underwriting the global order. Going isolationist operationalizes an underlying reality or more positively, sets the stage for the US to work out a more profitable geopolitical bargain.
An up-and-coming Pax Sinica would face the opposite challenge -- ample resources but scant experience and no story. A genuinely successful Sino-Swiss FTA, such as the one hailed during President Xi Jinping's state visit to Switzerland this week, would be an important thread in China's narrative, which needs to start in the Pacific.
The TTP was the pinnacle of a comprehensive institutional system. One that was able to effectively integrate soft power like the English language and Mickey Mouse, with hard power like military might and the US currency.
Order abhors vacuum and if America withdraws, the superpower able to deliver the goods will be welcomed. The leading light at last November's APEC summit in Lima was President Xi and his "China will not shut the door to the outside world but will open it even wider."
This week while China's president was making global headlines with his strong statement for globalization, his deeds spoke even louder as China's State Council liberalized services, mining and technology sectors. Of course, transitions to new orders are historically all but orderly.
For starters, America might be both skeptical on free trade arrangements but also scorn rival China initiatives. China will not inherit American-forged institutions and take them to a new height. However, America is not the ultimate consideration.
China is not in a position to propose TTIP or TPP replacements. Unlike America, it is in transition relying on forward-looking industrial policy to guide its economy through the treacherous middle-income trap. Thus China's offer will not include regulatory equivalency, open internet or labor standards.
Less ambitious bilateral or regional trade arrangements would still add substantial value. Another key is how wide sectors such as telecom, finance, technology and others will open in China, since an attractive trade deal necessitates domestic reform. That means losers, as leadership abroad is inevitably linked with creative destruction at home.