China and the challenges of globalization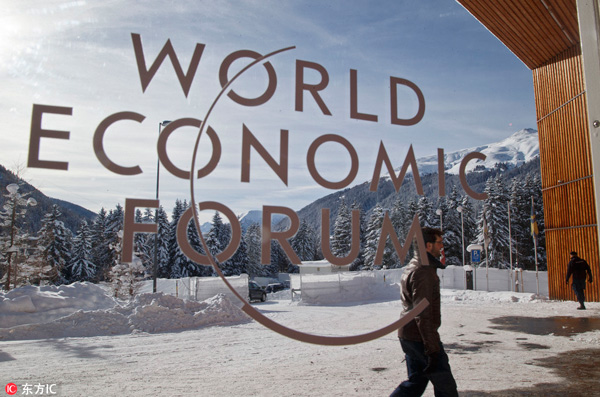 A man walks at the main entrance of the congress center where the World Economic Forum takes place in Davos, Switzerland, in this file photo taken on Jan 18, 2016. [Photo/IC]
By curious coincidence the World Economic Forum, which upholds the international benefits of globalization, is taking place at the same time as the presidential inauguration of Donald Trump, who promotes the domestic benefits of anti-globalization. While the former takes place in Davos and the latter in Washington, it's as if these unequal cities are linked by an ethereal economic axis that is lopsided and quivering and around which the whole world must now revolve.
Decent leaders do for their countries what they believe to be in the best interests and well-being of their citizens. Beliefs differ, of course, and they change as circumstances and leaders change. There are basic principles, but no perfect applications.
Today, the mantle of globalization leadership is being worn by China's president, Xi Jinping. Addressing the United Nations in 2015, Xi called for sustained international unity in addressing and solving global economic problems. He reaffirmed China's commitment to be a reliable partner in bringing about a more peaceful and progressive world through globalization in all forms, stressing common development through economic openness and shared prosperity.
"Economic globalization at the advent of an information age has vastly unleashed and boosted social productive forces," Xi said. "They have both created unprecedented economic development and given rise to new threats and challenges which we must face squarely."
This week, in an appearance of historic significance, President Xi will be China's first head of state to attend the World Economic Forum. Jiang Jianguo, director of China's State Council Information Office, stated that Xi's mission in Davos is to promote development, cooperation and economic globalization in order to construct "a human community with shared destiny".
"With the rise of populism, protectionism, and nativism, the world has come to a historic crossroad where one road leads to war, poverty, confrontation and domination while the other road leads to peace, development, cooperation and win-win solutions," Jiang said.
Leadership roles, remarkably, have reversed. For decades, the US was the great promoter of globalism while China was still closed to the outside world. China began changing — opening up — in the late 1970s, and in recent years, especially after the financial crisis of 2008-09, the US and parts of Europe have experienced such increasingly skewed wealth concentrations that many middle class working families began feeling left behind, even neglected, slighted, and eventually they became angry.