Responsive and responsible leadership to forge a new world order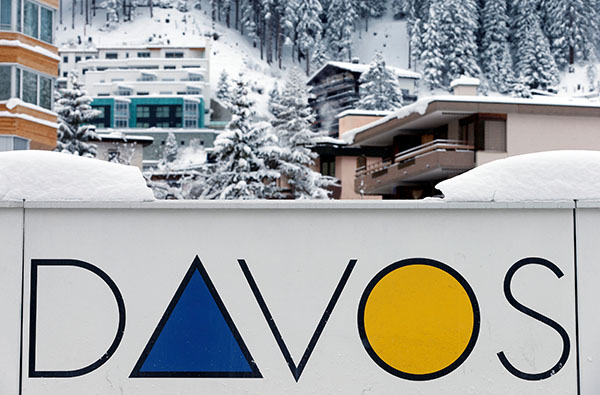 A Davos logo is seen before the annual meeting of the World Economic Forum (WEF) in Davos, Switzerland January 15, 2017. [Photo/Agencies] 
Global political and economic leadership is at a crossroad. Globalization has been based on the assumption that free trade is beneficial for national and regional systems. An integration agenda has been sought by international institutions and governments across the world with the objective of trade liberalization and the elimination of protections and preferences by governments to national industries.
However, globalization and the full-fledged neo-liberal approach to market integration in international trade, has revealed significant side effects which were not previously accessed. The emerging assumption is that free trade does not always serve national interests.
Recent political developments in the European Union, particularly in Great Britain, and in the US have verified that assumption and have opened up the fundamental debate related to globalization and the ensuing principle of market access and its implications on international trade.
Pivotal to this debate is the introduction of a regulatory system which could strike a meaningful and workable balance between free trade and national concerns. The EU and the WTO are two systems which both purport the regulation of international trade based on the market access principle.
The WTO has been the vehicle for the emergence of China as one of the most prolific markets in the world. The EU system represents one of the most mature, accessible and interoperable systems of liberalizing trade. It is aligned with the World Trade Organization, although the latter is an international trade policy framework of less liberalizing trade intensity as it is based on the principles of national treatment and the most favored nation (MFN).
Under both systems, international trade regulation has been preoccupied with the demolition of tariff and non-tariff protection. This has led to a significant reduction in tariffs, on the premise that world trade cannot function without tariffs. Tariffs in trade represent a means of revenue for the state and ultimately a means of protection of domestic markets and industries. Nevertheless, emphasis in the regulatory action has been directed upon eliminating non-tariff barriers (NTBs), in the sense that they represent the most prolific set of obstacles to the liberalization of international trade under both the EU and WTO as international trade regulatory systems.
Global political and economic leadership has not been responsive to the side effects of globalization and the vacuum which was created by the shift of resource allocation as a result of free trade. Production factors migrate to markets where conditions are optimized but leave behind a gap which has not been addressed satisfactorily.
Wealth is accordingly generated in regions where productivity and competitive advantages attract production processes, but present gaps which reflect on sustainability of national industries, employment issues, competitive advantages, labor mobility and migration.
On the other hand, a responsible global political and economic leadership necessitates a balance of facilitating free trade whilst protecting national interests, although such a balance is difficult to strike, because its inherent features run against the grain of international normative and political dogma over the last century.