Experts: Sino-US ties will not undergo huge shift under Trump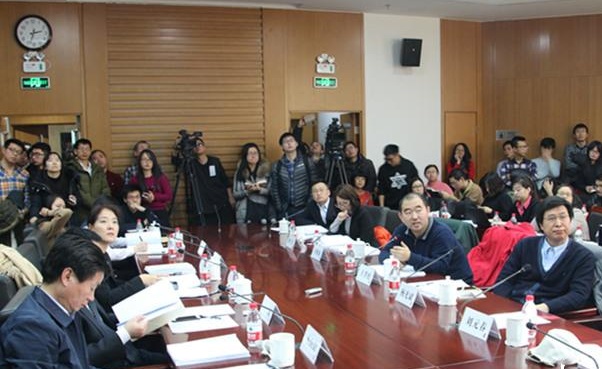 Renowned researchers and professors attend the conference organized by National Academy of Development and Strategy of RUC held in Beijing on Jan 13. [Photo by Song Jingyi/chinadaily.com.cn]
The Trump administration will not be too harsh on China in either economics or politics in the long run, the head of the School of International Studies at Renmin University has predicted.
Professor Jin Canrong shared his views at a recent conference in Beijing organized by a think tank affiliated with the prestigious Renmin University.
Renowned researchers and professors in international relations also attended the conference which was used to launch a collection of articles focusing on Trump's approach to China and China's response tactics.
"Trump's 'America first' foreign policy will shift his attention away from overseas to domestic affairs, leaving more space for China and the US to negotiate on Asian issues," Jin said.
Jin's views were supported by other scholars at the conference including Zuo Xiying, a researcher at the National Academy of Development and Strategy at Renmin University.
"Trump was a businessman, he has virtually no experience in politics, and he seems to have little interest in the South China Sea issue and human rights issue, so bickering over territorial disputes on South China Sea will be less, and that will probably soothe tense nerves between the two countries."
However, in Zuo's opinion, it doesn't mean that the US will turn a blind eye on the South China Sea issue.
"China still faces two challenges; the US's growing military power directly threatens security and increasing possibility of sudden conflicts happening on the frontlines of the South China Sea."
The consensus among many experts at the conference was that the Trump administration will focus more on China-US economic relations.
Lei Da, a researcher at the university's academy, believed China and the US should make concerted efforts more than ever to ascertain the big trends as well as individual difficulties and work towards consensus and solutions to "make globalization great again".
In Lei's opinion, Trump is likely to promote trade protectionism after he takes office in January, in line with his statements during the election campaign. However, he believed that "globalization will not disappear overnight or be rolled back across the board".
"It (globalization) has knit nations into an interlocked and interconnected web of networks with ever greater interdependence and common interests. Therefore, the slowing down of globalization virtually hampers the recovery of the US economy," Lei said.
Trade is the area where China and the US share the most common ground. However, Trump has said he would lump a 45 percent import tax on Chinese goods, which will put more pressure on Chinese enterprises.
"But I don't think he can achieve this," Lei said. "The Congress may not allow him to do it."