Trump's ploys leverage for cutting deals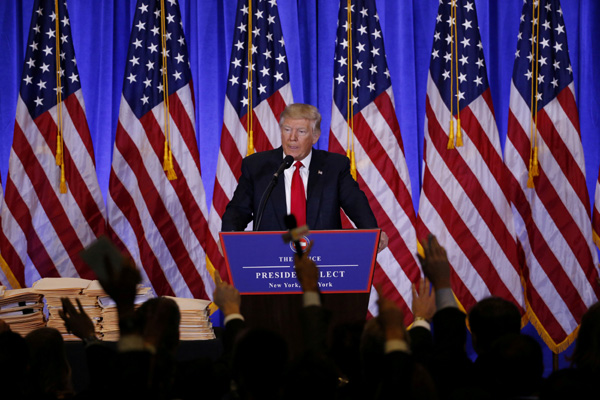 US President-elect Donald Trump speaks during a news conference in the lobby of Trump Tower in Manhattan, New York City, US, January 11, 2017. [Photo/Agencies]
CHINA'S FOREIGN MINISTRY SPOKESMAN LU KANG reiterated on Saturday that the one-China policy is the political foundation of Sino-US ties, and it is "nonnegotiable", after US president-elect Donald Trump told The Wall Street Journal on Friday that "Everything is under negotiation including one China." Beijing News commented on Monday:
Few now give Trump the benefit of the doubt with regard to his provocations on the one-China principle.
Apparently as a New York property mogul he believes that everything is business and is negotiable. What he has done in the past two months suggest that he will not be shy of using negotiation tricks in dealing with diplomatic affairs and is very likely to translate them into policies to "cut the best deal" he can for his country. That could involve constant provocations and sit-and-wait games.
Trump is well aware of the importance and sensitivity of the one-China principle, which is exactly why he is seeking to tamper with the cross-Straits issue.
In a breach of the time-honored diplomatic protocol that has been the foundation for diplomatic ties between the two countries, Trump answered a "congratulatory call" from Taiwan leader Tsai Ing-wen not long after his presidential victory, in the hope that Beijing would make "some concessions" in trade.
Trump has appointed Peter Navarro, a noted China hawk as his new director of trade and industrial policy. His nominee for secretary of state Rex Tillerson has called Beijing's reclamation works on reefs and islets in the South China Sea "illegal".
On the other hand, he has nominated Iowa Governor Terry Branstad, "an old friend of China", to become the next ambassador to China, in an attempt to balance future negotiations with Beijing.
His obsession with "business negotiations" also applies to countries that are even the US' allies. He has implied there could be negotiations if Mexico makes major concessions after threatening to build a war on the US-Mexico borders and have Mexicans pay for it.
Such ploys must be stopped before they cause serious trouble.