Liaoning: Sunshine at the end of long winter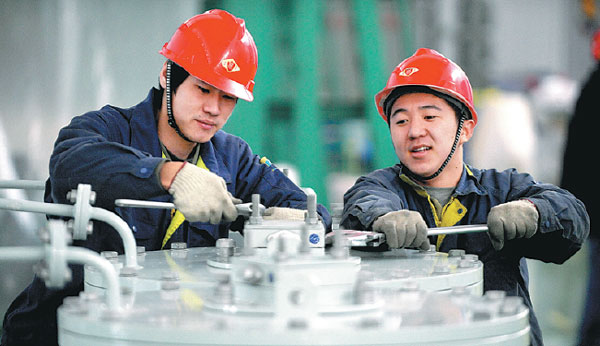 Workers from TBEA Shenyang Transformer Group Co assemble equipment in a plant in Shenyang, Liaoning province. [Photo by Zhang Wenkui/For China Daily]
First the so-called experts said China will never be a developed and advanced country. Then they said China's reforms will not work, that China's growth was a bubble. Then came the claim that China will always remain the world's factory, etc, etc, etc.
At every turn and at every stage these "old China hands" have been proven wrong, but that hasn't stopped them from making dire predictions. Now they are betting against the revival of the Northeast.
Well, it looks like the "rust belt" is going to shame them again.
It's no secret that the industrial heartland of the country has been going through a tough time for some years. While some of the problems are due to its own shortcomings, others were caused by events that were out of its control, such as the global slowdown.
But what many have either failed to notice or deliberately ignored is the change that has been taking place in the Northeast, especially in Liaoning province.
Take for instance the Shenyang Machine Tool Company in the province capital. In an effort to push innovation and target high-end sector, it launched the world's first integrated smart machine toolmaker, i5M8. This out-of-the-box thinking showed that Chinese firms also were capable of producing numerical controlled machine tools. That was just a start. Now fully automated lathes and machines produce the precision tools for advanced industries.
Another example of government working together with multinationals to attract global talent and expertise to the province is the BMW plant in the capital. It's the biggest research and development center of the auto giant outside Germany.
Then there's Dalian, the financial, shipping and logistics center for Northeast Asia. The southernmost city of Northeast China is also a major tourist destination.
All these signs show that the manufacturing hub of the country is determined to deliver the goods. But can it pull it off?
Two cities hold the clue.
In the United States, steel and electronics industries were the main growth engine of Pittsburg until both sectors were forced to undergo massive restructuring in the 1980s. In the United Kingdom, Manchester was processing 65 percent of world's cotton in 1913 before it was hit by the Great Depression and other structural problems.
Although Liaoning is neither Pittsburg nor Manchester, it is - just like those two cities used to be - heavily dependent on big factories. It's the large State-owned enterprises that are still the major employers and drivers of the economy. But the ground is shifting. Where once workers had job security, good salary and perks, now jobs are fewer, salary has fallen and most perks have disappeared.
The province, like rest of Northeast, witnessed unprecedented growth for decades until the global market slump left its main industries – steel and coal - reeling. What made matters worse was the inability to keep pace with the changing times. So instead of introducing automation and targeting the mid- and high-end sectors, the factories kept producing goods that offered low returns.
But if Pittsburg and Manchester were able to transform their economies from steel and cotton to technology and knowledge hubs then there's no reason to doubt why Liaoning cannot achieve the same results.
The province can put its economy back on track if it is able to reduce its dependence on State-owned enterprises, encourage more private companies by offering them favorable policies, and provide better environment to both domestic and foreign talent. This is not to say that it would be an easy process.
There could be a rise in unemployment, but a large part of the workforce could be absorbed by private companies. The entry of private firms could also go a long way in halting the brain drain. But the most crucial point is that a long-term view is needed.
Whether it is automation, retraining staff or changing people's mind-set, it all needs time and patience. Liaoning should use this opportunity to scale down industries that are well past their age, clean up the environment and offer better facilities both to retain as well as to attract new workers, and open the doors wider to private enterprises.
If the region's inhabitants can survive the brutally cold winter then they certainly have the perseverance and strength to turn their fortunes around. Give it time and Liaoning will bounce back.
The author is a senior editor with China Daily website.