Tillerson's animosity toward China bodes ill if acted upon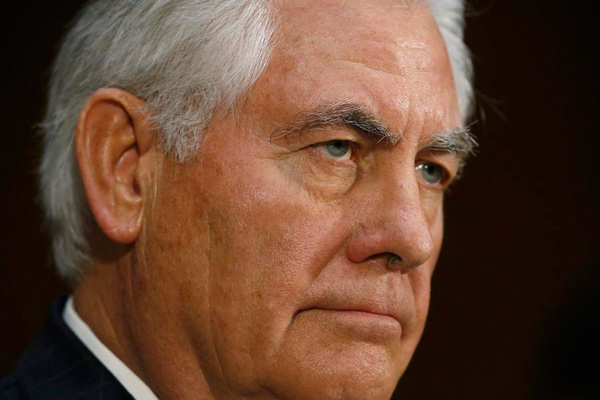 Rex Tillerson, former chairman and chief executive officer of Exxon Mobil, is seated prior to testifying before a Senate Foreign Relations Committee confirmation hearing on his nomination to be US secretary of state, on Capitol Hill in Washington, US January 11, 2017. [Photo\Agencies]
It remains a question whether United States president-elect Donald Trump's nomination of Rex Tillerson, former Exxon Mobil Corp chairman and chief executive, as secretary of state will get through Senate scrutiny.
If he is appointed, it remains to be seen to what extent his views against China will translate into US foreign policies. After all, what we heard at Wednesday's confirmation hearing before the US Senate Foreign Relations Committee was essentially his personal policy inclinations.
Not only were his views divergent from, even contrary to, those of Trump on some critical issues. He openly conceded he is yet to have a serious, in-depth discussion with Trump on foreign policy imperatives.
These boil down to one simple point-his remarks at the Wednesday hearing, sensational as they were, turned out to be of little reference value except for judging his personal orientations.
The backlash that has ensued is understandable. It is certainly no small matter for a man intended to be the US' diplomat in chief to display such undisguised animosity toward China.
Tillerson labeled China's reclamation projects in the South China Sea as "an illegal taking of disputed areas without regard for international norms", in obvious disregard for the essential truth that all those activities took place well within the country's persistent, historical territory.
Blaming the "extremely worrisome" state of affairs in the South China Sea on an "inadequate US response", the US secretary of state nominee even claimed China's access to those islands should "not to be allowed". Which sounded intimidating, though he stopped short of elaborating how to achieve it.
And like Trump, he blamed Beijing for "not being a reliable partner" in dealing with the Democratic People's Republic of Korea.
Such remarks are not worth taking seriously because they are a mish-mash of naivety, shortsightedness, worn-out prejudices, and unrealistic political fantasies. Should he act on them in the real world, it would be disastrous.
As many have observed, it would set a course for devastating confrontation between China and the US. After all, how can the US deny China access to its own territories without inviting the latter's legitimate, defensive responses?
Tillerson wanted a reality-based China policy that is "based on what we see and not based on what we hope". But what he presented was based more on what prejudice and arms-spurred self-righteousness make him believe and hope rather than on real-world realities.
What happened on Wednesday shows that if and when confirmed, Rex Tillerson needs to first acquaint himself with the ABCs of China-US relations and diplomacy at large.