Highlights of US President-elect Donald Trump's news conference
The following are highlights from US President-elect Donald Trump's hour-long news conference in New York on Wednesday, nine days before he takes the oath of office.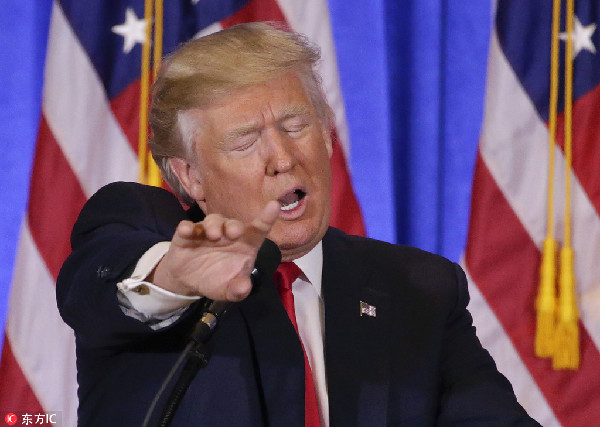 President-elect Donald Trump takes questions during a news conference, Jan 11, 2017, in New York. [Photo/IC]
TRUMP ON LATEST NEWS ON RUSSIA AND THE ELECTION
Trump blasted the release of an unsubstantiated intelligence report saying he had been compromised by Russia and was vulnerable to blackmail, characterizing it as "nonsense that was released by, maybe the intelligence agencies, who knows, but maybe the intelligence agencies ... It should never have been written, it should never have been released."
"It's all fake news. It didn't happen. It's phony stuff. It was a group of opponents who got together, sick people, who put that out."
"I think it was disgraceful, disgraceful that the intelligence agencies allowed any information that turned out to be so false and fake out there ... That's something that Nazi Germany would have done."
He praised some news organizations for not initially reporting on the document.
"I just want to compliment many of the people in the room ... I have great respect for the news and great respect for freedom of the press."
He strongly criticized CNN for its reporting of the story, refusing to take a question from a reporter for the network, telling him, "I'm not going to give you a question. You are fake news."
"Some of the media outlets we are dealing with are fake news ... All I can ask for are honest reporters."
Asked whether he accepted that Russian President Vladimir Putin tried to help him win the election, Trump said, "If Putin likes Donald Trump, I consider that an asset, not a liability."
He denied having any business dealings with or in Russia. "I have no loans with Russia at all."
TRUMP ON HACKING AND THE ELECTION
"As far as hacking, I think it's Russia. But we also get hacked by other countries and other people, and I can say that."
On Putin and hacking, Trump said, "He shouldn't be doing it. He won't be doing it."
"Within 90 days we will be coming up with a major report on hacking defense, how do we stop this new phenomena."
TRUMP ON RELATIONS WITH RUSSIA AND OTHER COUNTRIES
"Russia will have far greater respect for our country when I'm leading it ... We're either going to get along, or we're not. I hope we get along, but if we don't, that's possible too.
TRUMP ON HIS SUPREME COURT PICK
Asked about nominating a Supreme Court justice, Trump said, "So, as you know, I have a list of 20. I've gone through them ... They were outstanding in every case ... I'll be making the decision on who we will put up for justice of the United States Supreme Court, a replacement for the great, great Justice (Antonin) Scalia. That will be probably within two weeks of the 20th (of January) ...
"It will be a decision which I very strongly believe in. I think it's one of the reasons I got elected."