McDonald's not retreating from China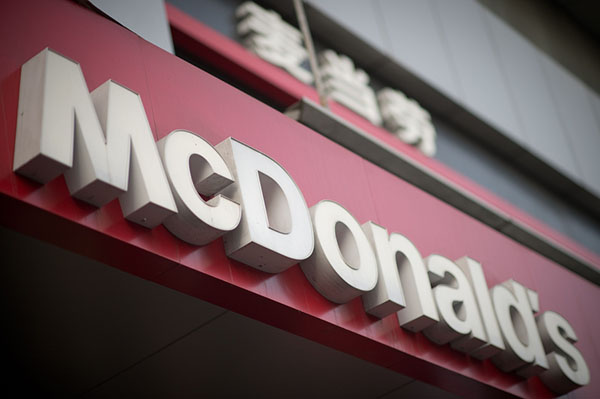 A McDonald's fast food restaurant sign is seen in Beijing on January 9, 2017. [Photo/VCG]
FAST-FOOD GIANT MCDONALD'S CORP on Monday announced the sale of 80 percent of its Chinese mainland and Hong Kong operations to a consortium including China's CITIC Ltd and the Washington-based private equity company Carlyle Group LP in a deal worth up to $2.1 billion. Beijing Youth Daily commented on Wednesday:
Under the agreed terms, CITIC and its investment management unit CITIC Capital will acquire a 52 percent stake in McDonald's operations in the mainland and the special administrative region and Carlyle a 28 percent stake.
Although the deal is yet to be closed, it has given rise to concerns that the fast-food chain is backing out of the Chinese market amid increasingly intense competition. The rise of local fast-food chains has posed a challenge to its leading position and overall profits.
Such speculation is uncalled for. McDonald's is neither quitting the Chinese market nor will it relinquish its control over its restaurants in the Chinese mainland and Hong Kong, because the latest deal is more about selling its franchise operations.
McDonald's has more than 2,400 outlets in the mainland and 240 in Hong Kong, and about two-thirds of them will be refranchised. However, the corporation will retain a 20 percent stake as well as its management, meaning that Chinese shareholders are unlikely to affect its core strategies.
Ostensibly the fast-food firm is selling a major stake in its China business to a group of investors led by CITIC. Yet in fact, by introducing local capital and resources as well as a new master franchisee to the game, it aspires to reduce the risks embedded in its China operations while seeking to expedite its expansion to regain its footing.
Its major rival KFC, owned by Yum Brands Inc, has twice as many restaurants on the Chinese mainland and the gap is not likely to narrow in the foreseeable future. Cooperating with CITIC, a resourceful Chinese enterprise known for its extensive real estate network, is a targeted move that may help it to compete for market share. Retreating from the lucrative Chinese fast-food market, where huge potential remains untapped, is not what McDonald's wants.