McDonald's sells 80% stake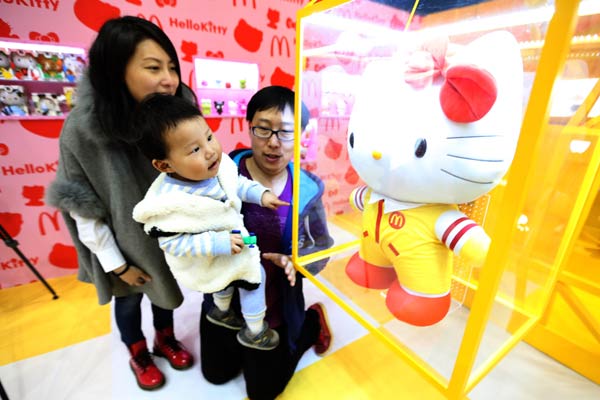 A child looks at a Hello Kitty during a toy exhibition organized by McDonald's Corp in Beijing. [Photo by Jiang Dong/China Daily]
Fast-food chain McDonald's Corp announced on Monday the sale of 80 percent of its Chinese mainland and Hong Kong operations to a consortium including CITIC Ltd and Carlyle Group LP.
The move will help it expand amid growing competition, but analysts warned challenges remain.
The $2.08-billion deal will give CITIC and CITIC Capital a controlling stake of 52 percent in the new entity, with US buyout firm Carlyle holding 28 percent and McDonald's 20 percent, making it the largest franchisee outside the United States.
With this transaction, McDonald's is franchising all of its more than 2,600 stores in the Chinese mainland and Hong Kong for 20 years, a major step toward turning around its fortunes in Asia and cutting costs globally, according to Phyllis Cheung, McDonald's chief executive officer in China.
"Financial strength is very important to accelerate openings in China. Besides, CITIC's real estate networks and strategic alliances with developers including China Vanke Co Ltd and China Resources (Holdings) Co Ltd may potentially open up more opportunities," Cheung told China Daily in Shanghai.
The company will rely on the partners' "unmatched understanding of the local markets" to add another 1,500 stores across the region in five years, mostly in third- and fourth-tier cities, said Cheung.
"Expansion takes a lot of resources, including finding suitable locations, negotiating rents and finding the right type of landlord," said Zhang Chenyi, CEO of CITIC Capital, who will chair the new company. "CITIC Bank's 1,400 branches across China would be able to better share resources and help the expansion."
Competition is fierce in a country where the novelty of burgers, fries and shakes has long since faded, said Qi Xiaozhai, head of the Shanghai Society of Commercial Economy.
With the partnership, McDonald's is better poised to leverage a stronger talent pool to grow into new markets a lot faster than on its own, Qi noted.
"But consumer tastes have evolved in the past two decades to favor more upscale restaurants, indicating more headwinds to overcome amid growing competition," he said.
Shaun Rein, managing director of China Market Research Group, regarded the move as a retreat rather than a step forward.
"It's not a great sale. The problem with McDonald's isn't really about management, but that its core products aren't something Chinese consumers enjoy the most," he said.
It's questionable to what extent a 20-year franchise is going to unlock the potential of McDonald's and let it react quickly to issues such as food scandals and changing consumer preferences, he noted.
Its archrival Yum Brands Inc, the company behind KFC and Pizza Hut, has spun off its China business through an initial public offering, with investment from Primavera Capital and Ant Financial Services Group.