Russian media blow off stale western prejudice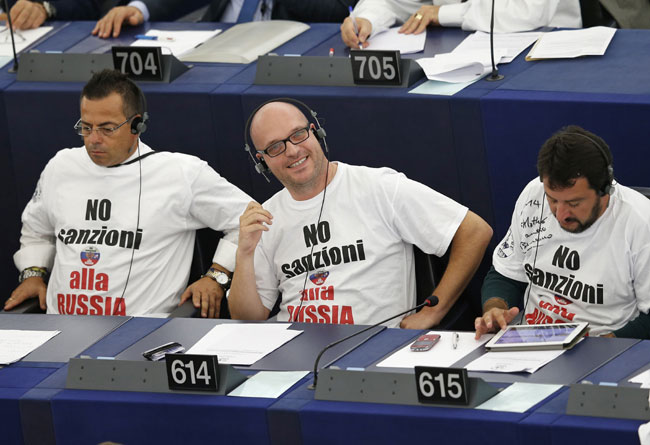 Italian Members of the European Parliament Gianluca Buonanno (L), Lorenzo Fontana (C) and Matteo Salvini attend a voting session on the EU-Ukraine Association agreement at the European Parliament in Strasbourg, September 16, 2014.[Photo/Agencies]
The European Parliament passed a resolution on Nov 23 to counteract propaganda from third parties against it, obviously aimed towards Russia. Although, the resolution is non-legislative for EU members, it reflects the weakness of the EU both from inside like the wealth gap, and outside like refugee inflows and terrorist attacks.
Russian journalists, based on their professionalism and diverse values, stand out to take on the western media and their "political correctness", which has dominated the international media arena for decades.
Like BBC, CNN and other western media outlets, the "correctness" founded on democracy and professionalism as their golden rule has been praised home and abroad. However, the professionalism only applies to domestic issues while democracy turns out to be the only criteria facing their international reports.
Al Jazeera brought fresh air once upon a time but lost momentum before Russian media like RT and Sputnik emerged in the last decade. The later found their stance in the US and EU by reporting on the voices of "grassland people" by mainstream western media. Cooperating with third-level think tanks and isolated NGOs, Russian media intensively reported the chronic social problems inside western society.
After a series of reforms and social turbulence, Russian media, especially their international agencies, have anchored their berth to serve national interest by disclosing those inconvenient truths which were ignored deliberately by their mainstream western counterparts.
The reports of Russian media indeed stirred up reflections of western populace, and the EU or the US could only take restrictive steps currently against those "incorrect" reports before they could find a new, softer solution.
The author is a professor with Journalism college of Jinan University and a senior fellow of the Charhar Institute. This article is authorized by the writer to be translated from a Chinese copy.
The opinions expressed here are those of the writer and don't represent views of China Daily website.