Effective online copyright law a thorny issue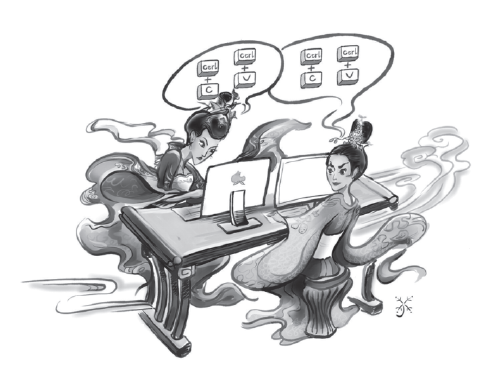 MA XUEJING/CHINA DAILY
Princess Weiyang, a television drama adapted from an online novel, The Poisonous Daughter, has been caught in the vortex of copyright controversy since hitting TV screens with many netizens accusing the author of the "original work" of plagiarizing, even lifting entire chapters from, similar types of novels.
Such an accusation, if proved, will be another example of poor intellectual property rights protection of online works in the country, which, if not checked, would deal a blow to the development of the digital cultural market. Data from Tencent indicate the value of internet works, including IPR deals, was 420 billion yuan ($60.72 billion) in 2015-and it is expected to cross 560 billion yuan this year.
Along with many benefits, the internet has also created difficulties for copyright protection. The reuse of traditional works on the internet in new forms, such as through digitalized disposal, show the efforts to protect copyright have not been fully successful. China started amending its copyright law for the third time in July 2011. A series of copyright dilemmas, such as combating cyber literature piracy, illegal online video aggregation, non-payment for music and live broadcasts of sports events, pose a major problem for the healthy development of the internet sector.
Cyber literature piracy refers to unauthorized reprint, duplication and publication on the internet for commercial purposes. Considering the third amendment to the copyright law is going on, the authorities can regulate the internet sector by, for example, advocating and encouraging copyright registration of online works and establishing a cyber recording system. They should also intensify the crackdown on online piracy and mete out punishments to copyright violators.
Online video aggregation refers to the use of software to bring scattered online videos on an internet platform. This will enable people to watch all the videos they want to, and network operators to provide services such as a one-stop content supply model to attract more consumers and increase their profits.
But the risk of copyright encroachment always follows commercial operation models. So if online platforms engaged in video aggregation claim to use deep-linking internet technology, the onus to provide proof for their claim should be on them. If uploading of linked contents has the prior permission or authorization of copyright owners, they should be displayed on screen. And if the users do not display such permission on the screen, they should be investigated for copyright infringement.
There have also been calls for regulating online music copyright. In July 2015, the National Copyright Administration issued a document urging all online music providers to stop disseminating music without formal authorization and put all unauthorized works offline. This is the "sternest order of restriction" on the use of unauthorized musical works online. Still, the cyber musical industry does not have a standardized order and flooded with unauthorized musical works.
More strangely, in many cases of copyright encroachment, copyright owners or their authorized platforms choose to negotiate with the users for settlement rather than filing cases against them. This happens because of the long cycle, high costs of and low compensation in such cases, as well as the difficulty to collect evidence to protect their copyrights.
Live broadcasts of online sports events can earn huge profits for internet platforms. But whether the contents of such live broadcasts should enjoy copyright protection and how to protect them are still a thorny issue for both IPR regulations and the judicial department. For example, if the contents of such live broadcasts are defined as "works", how to confirm who owns them, how to identify their originality and how to confirm what type of rights are violated? Such problems are yet to be addressed by legal clauses.
How to effectively protect copyrights as well as ensure the public continues to share authorized content are pressing issues for country's copyright law. Lenient laws will compromise the rights of copyright owners, but very strict measures for copyright protection could restrict the sharing of even many authorized works by the public. Legislative, judicial and law enforcement departments should, therefore, weigh the pros and cons and try to strike the right balance in copyright legislation and protection.
The author is a lecturer at the Southwest University of Political Sciences & Law.