World Creators Forum calls for tougher copyright protection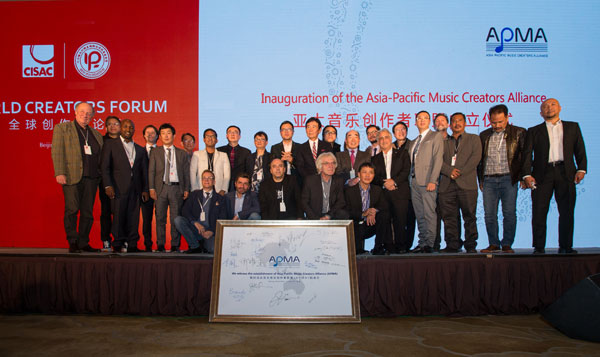 Inauguration of the Asia-Pacific Music Creators Alliance at the World Creators Forum in Beijing, Nov 28, 2016. [Photo/Xinhua]
More than 250 creators, government officials, as well as academics and representatives from over 30 countries discussed ways to better protect copyrights in the creative industry and build a sustainable environment for art creation in the world, in Beijing on Monday.
Co-organized by the International Confederation of Societies of Authors and Composers (CISAC) and the China Intellectual Property Law Association, the World Creators Forum also highlighted fair remuneration in the digital age, covering areas including audio visual, music and visual arts.
It marks the first major CISAC event in China, highlighting the important role of the world's second largest economy in international copyright protection.
"China has experienced rapid economic growth and huge technological change. Given the size of its population and the strength of its economy, China can make a major contribution in protecting creators and the creative industry," said Gadi Oron, Director General of the CISAC, while addressing the forum.
As a crucial part of the one-day event, the Asia-Pacific Music Creators Alliance (APMA) was inaugurated, signed by authors from over 15 countries and regions including Australia, New Zealand, South Korea, Japan and Vietnam. It's a milestone move in securing musicians' rights in the Asia-Pacific.
According to Oron, Asia-Pacific has become the world's largest market for cultural and creative products, representing over 30 percent of the global cultural and creative industrial revenues.