Hefei: Historic city at forefront of high-tech innovation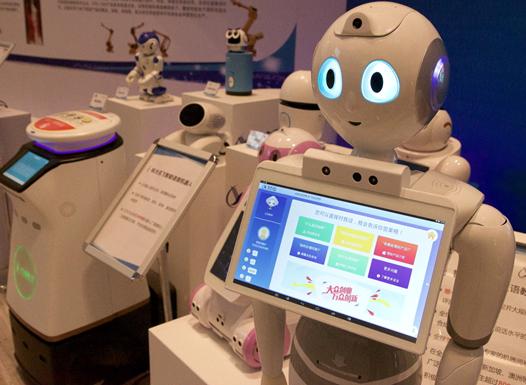 A 'New Generation' robotic technology is on display in Hefei, capital city of Anhui province, Nov 17, 2016. [Photo provided to chinadaily.com.cn by Bruce Connolly]
It was symbolic traveling to a centre for China's rapidly developing high-tech innovation that the journey would be by a 'state-of-the-art' CRH train. Introduced progressively since 2008, this domestically produced advanced rail system has transformed travel nationwide. Moving at over 300 km/hr south from Beijing to Hefei, capital of Anhui Province, what previously took more than half a day was completed after only four hours! China's new stations are big, vast, and modern and Hefei South was no exception. Situated well south of the historic older city within Luyang District, watered by the Nanfei River, this recently completed terminus sits in Baohe District relatively close to Chaohu, one of China's six large freshwater lakes. Growth is increasingly focused on this area with its progressive infrastructure, one of several such nodes in today's Hefei.
An impression of Hefei, located at a crossroads of China, is of waterways and lakes that served as 'highways' in historic times. Water routes, while still important, have been increasingly surpassed by a system of inter-city expressways and high-speed rails alongside convenient domestic and international air corridors. Economically intertwined with Changjiang (Yangzi) river cities such as Wuhan, Nanjing and Shanghai, Hefei was identified by the Economist Intelligence Unit in 2010 as one of 20 emerging cities in China and in December 2012 as the world's No1 fastest growing metropolitan economy.
In the earlier days of 'Opening Up', China's growth was driven by mass-production of cheap goods. Known as the 'World's Factory', the country was in a developing stage with education, not yet geared up for creative innovation. Design generally originated from overseas. Over a relatively short period both domestic school and university education has advanced considerably to a point where China is now comfortable with both designing and manufacturing products not just for every day use but for issues such as high-speed rail travel, aviation technology, space flight and much more.
Hefei has had a long association with technology, producing for example the world's first DVD player! Could it become the 'Silicon Valley' of China, and maybe Asia? There is certainly considerable investment in physical infrastructure, particularly around the northwest of the city where Hefei High-Tech Industry Development Zone is located. Hefei's newer zones generally are sprouting on 'greenfield' sites beyond the more congested downtown areas. Leading centers of advanced research have set up shop there, some associated with top Chinese universities. From the upper floor windows of the zone's administrative offices the view is of building construction, expanding road layout and essential physical projects. Hefei is developing a metro system serving both this locale and much of its greater metropolitan area.
It was a treasured opportunity to visit several centers within this Development Zone to see first hand what is currently being achieved. The atrium of USTC Institute of Advanced Technology displayed the latest in scientific innovative creativity - everything from robots, drones and giant HD television screens to electric cars - much that only a few years ago could not have been produced in China at such levels of sophistication. Nearby iFLYTEK provided examples of voice recognition and appliance control that could potentially make everyday domestic chores redundant. They even had technology for on-screen auto-correction of student hand-written essays!