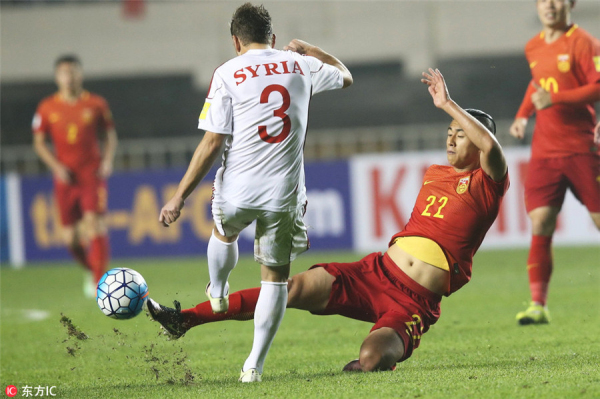 Players from China and Syria fight for the ball during a FIFA World Cup Asian Zone qualifier in Xi'an, China on Oct 6, 2016. China lost to Syria 1-0 in the game. [Photo/IC]
China's terrible performance in the qualifying games for 2018 World Cup in Russia has once again made the men's national soccer team a target for ridicule at home. After losing three games in a row to South Korea, Syria and Uzbekistan, they now only have a theoretical possibility of going to Russia for the finals.
The Chinese Football Association has seen five heads since the early 1990s, and each has had his own understanding of what's best for the game in China, depending on their backgrounds. Likewise, the men's national team changes its coach every three years on average, and there have been coaches from Germany, France, Britain, Spain, the Netherlands and Serbia, among others. Thus, the Chinese team has yet to establish its own style.
A Syrian player said after the game in Xi'an of Shaanxi province on Thursday that he hoped he caught the attention of Chinese clubs and can come to play in the Chinese Super League, because of the generous payments they offer to players. This served to highlight the bitter truth that compared to their mettlesome opponents from the war-torn land, the Chinese players, clad in Italian tailor-made suites and traveling in a chartered plane, seemed sleepy and disinterested on the pitch.
China can always accomplish its plans, except it seems its soccer plans. Perhaps the fact that a dozen officials of the CFA, who drafted a series of such plans, are now behind bars for corruption and abusing their power, and several star players who participated in the 2002 World Cup remain imprisoned for cheating and betting, explains why this has been the case up to now.
The 16-club Chinese Super League is known for its extravagant buying capacity. Funded by China's big enterprises and real estate giants, the clubs attract dozens of world-class players and coaches with exorbitant salaries, usually two to five times what they can make in Europe and South America. Currently, three of the top 10 earners among footballers are playing for Chinese teams.
Their presence makes Chinese clubs a fast rising power in Asia. A club in Guangzhou, coached by Marcello Lippi, won the Asian champion in 2013. In the 1980s, China was classified as a first-class team in Asia, with Iran, Saudi Arabia and South Korea as its main rivals. However, China's FIFA ranking has dropped from around 50th in the 1990s to the current 80th.
The prosperity of the Chinese Super League, therefore, does not reflect the ability of Chinese players. Japan and South Korea started their professional league in 1993 and 1994 respectively. They have not only produced many Asian champions, but also regularly export good players to Europe, establishing a channel connecting young people and grassroots soccer talents with the professional pitches. Most clubs make ends meet through successful commercial operations.
The Chinese Super League seems isolated from the rest of the soccer world. The average level of the teams is obviously lower than that of their counterparts in South Korea and Japan. But the income of the players is higher.
The annual income of first-tier Chinese players-from among whom the Chinese national team is chosen-has risen from about 3 million yuan ($460,000) to more than 20 million yuan in the past 10 years. They are thus very careful to protect themselves from injury while playing for the national team in case it damages their value to their clubs.
Most Chinese soccer players do not have a good education or other skills with which to make a living after leaving the pitch for the last time. Thus they want to make as much as they can during their playing career.
Hao Haidong, a retired Chinese soccer star, said in a recent interview that he could no longer feel the joy of the game soon after he turned professional, as there are too many external factors influencing the shaping of players from a young age in China.
Letting footballers feel the joy of the sport is the very first step to put Chinese soccer on the right track to success. But that entails a series of reforms that need to begin far beyond the football pitch.
The author is a writer with China Daily. liyang@chinadaily.com.cn