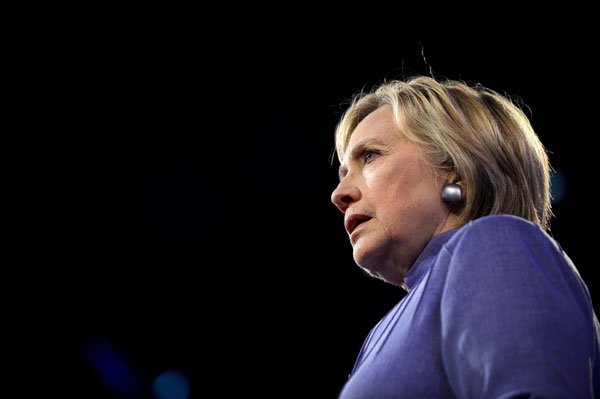 Democratic presidential nominee Hillary Clinton addresses the National Convention of the American Legion in Cincinnati, Ohio, US, August 31, 2016. [Photo/Agencies]
Hillary Clinton, the Democratic candidate in this year's presidential election in the United States and her Republican counterpart Donald Trump conducted their second television debate on Sunday that saw a new round of acrimonious and personal exchanges. Beijing News commented on Tuesday:
Following the disastrous two weeks that could derail his campaign for the US presidency, Trump regained some of his footing in the debate, but not enough to claim final victory. When questioned about his refusal to release his tax returns and his description of a former Latina beauty queen as "Miss Piggy", he should have offered sincere apologies and explained what he had done to rectify those mistakes.
Instead, Trump sought to make light of his tax problems and went on to challenge the operations of the Clinton Foundation. He did apologize for disrespecting women in a 2005 video. But he also defended his lewd comments as "locker room talk", denied assaulting any women, and accused his rival's husband, former president Bill Clinton, of physically abusing women.
Such rhetoric has made the presidential debate a platform for trading insults. That explains why the two candidates, who have little in common in terms of political ambitions and agenda, only have about 40 percent or so of public support, according to the most recent opinion poll. It is also notable that the figure for US President Barack Obama is just over 50 percent. That, to some extent, offers a glimpse of the widening divisions in the US society.
Most presidential candidates in the past would try hard not to go to extremes in an attempt to grab as many undecided voters as they could near the end of election. But this time it is different. Both Clinton and Trump are too busy responding to sensitive, personal issues that they do not even have time to try and attract undecided voters, most of whom would like to see a united government rather than a divisive one.