Fun and fear on Taobao odyssey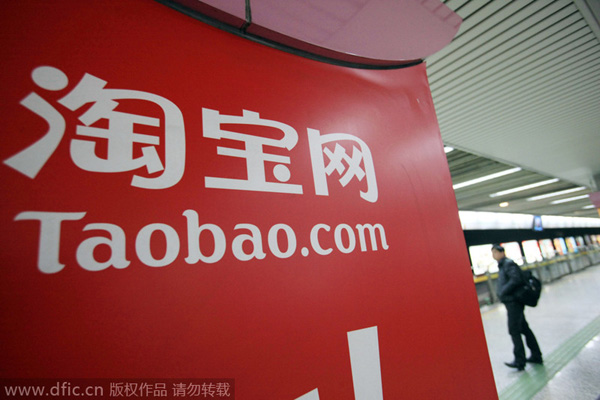 An advertisement for online shopping site Taobao.com of Alibaba Group is seen at a metro station in Shanghai, Nov 12, 2014. [Photo/IC]
I am a self-professed shopaholic and traveler. While working in Japan for many years, I crossed the Japan Sea to visit China's most popular tourist attractions, which included the Great Wall outside Beijing, the West Lake in Hangzhou, the Li River in Guangxi province and the Bund in Shanghai. These tours are what the Japanese describe as 'pack tours': whirlwind 3 or 4 day trips where you see the best of China including outlet shopping to boot. Unlike many tourists who hate to be taken on forced shopping sprees, I love them. Once in Shanghai, I spent so much time and money in a silk outlet shop that the tour bus left without me! I vowed someday to work in China so I could see and shop more.
My chance came in late 2012. One of my friends had mistakenly sent me a job advertisement to work at a small university in Loudi City, central Hunan. I inquired and was almost instantly granted the job. Although my adventurous spirit wanted to see a part of China that perhaps no Australian had traversed before, I hesitated to accept. My fears were allayed when my future boss assured me there was a 'Walmart' in the town where you could buy everything you could ever want! My mother and I jumped with glee: I could buy anything I needed at a fraction of the price I'd pay in Australia.
On my first visit to the rather grubby Walmart in my new town, I knew I had been seriously misled. It wasn't the shopping mecca I'd been promised! Prices for clothes, stationary and home-wares were more expensive than what I would have paid in Japan or Australia. Selection was also lacking. How is it that China, the source of the world's merchandise, had less on offer at a higher price? I was terribly disappointed! Shops around the university were worse: only basic everyday items for university students.
After spending almost two years relying on trips back to Australia to get my most needed items and clothing in my size, a small miracle happened. A Russian teacher, by the name of Sergei, arrived at my university and moved into the apartment next door. Russians, like Europeans and Asians, have an eye for beauty and a bargain. Although he couldn't read Chinese, he'd somehow made a search on Taobao, the biggest online shopping site in China, and asked his students to help buy things for him. I followed suit, and soon I was whiling away the hours searching for stuff online like any Chinese. My apartment started to fill up, yuan flowed out of my bank, but the years of deprivation were over!
Don't think for one minute that I am blind to the foibles of Taobao. I have received the wrong item, size or color. I have also received copied goods, which is of no surprise as it is estimated that 40% of products on Taobao are fakes. On the other hand, I've found some cheap, useful household goods and the clothes are better quality and don't fadeif I pay more than 200 yuan per item. Taobao or 淘宝 is exactly as its name implies, 'a search for treasure'. Sometimes you find gemstones and at other times rocks. Still, it is preferable to brick and mortar shops in China these days, which mostly disappoint Chinese and foreign tourists alike with their lack of variety and higher prices. To get more for my yuan and to quell my shopping cravings, I'll stick with Taobao for the moment.