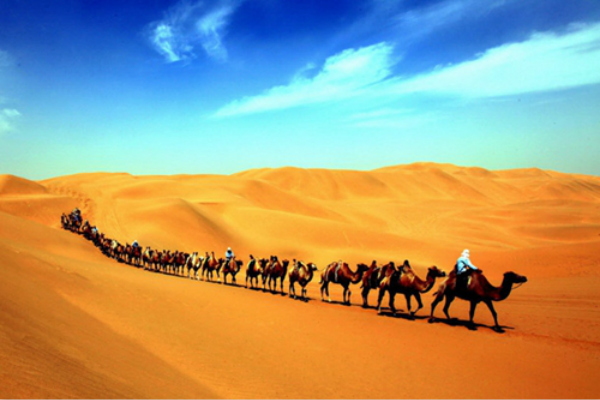 The camels in the dessert.[Photo/File]
The realization of five trends
Three years ago, President Xi Jinping proposed building the Silk Road Economic Belt and a 21st Century Maritime Silk Road, now known jointly as the Belt and Road Initiative, which is China's most ambitious initiative of the past few decades.
The West's reaction to the proposal has been skeptical, focusing on it as an attempt by China to export its excessive industrial capacity or being part of China's geopolitical strategy, or both.
There are obviously domestic imperatives for the initiative, but they do not convey the whole picture, and there are five aspects of the initiative that are particularly noteworthy:
First, infrastructure is more conducive to poverty eradication than one person one vote (as advocated by the West). China is sharing this pragmatic idea with the countries along the Belt and Road, most of which are developing ones with a huge demand for infrastructure and large populations seeking better livelihoods.
Second, infrastructure facilitates connectivity, which in turn facilitates exchanges of goods, ideas, services and people. Having gained so much from its own connectivity both within the country and without, China is promoting "five-way" connectivity-in policies, trade, transportation, currency and people-to-people-with the Belt and Road.
Third, the significance of connectivity is multiplied by cooperative partnerships. True, the Belt and Road Initiative are Chinese proposals, but China cannot realize them alone, rather it is endeavoring to forge win-win partnerships with all participants in the initiative.
Fourth, establishing partnerships among so many countries with diverse cultures and traditions is bound to be challenging, so China has called on those willing to participate in the Belt and Road Initiative to respect the sovereignty of others and promote dialogue and cooperation among civilizations as a way to reduce differences, enhance mutual understanding and jointly explore the best way to realize common prosperity.
These five concepts put together represent a new type of globalization, a more inclusive globalization, one which will contribute to closing up the gap between the world's poor and rich, tackling the root cause of extremism and terrorism and pave the way for creating a community of shared interests, destiny and responsibility.
Zhang Weiwei is the director of the China Institute at Fudan University.