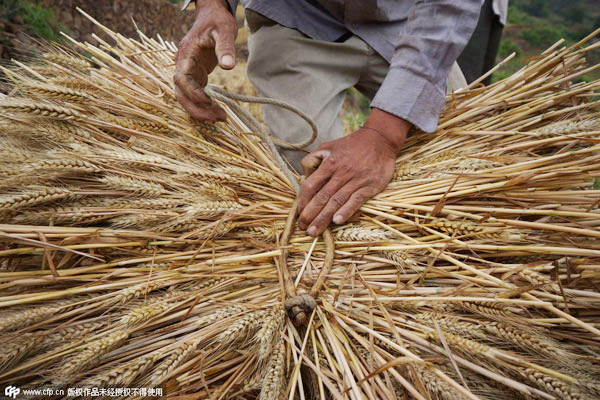 A farmer ties wheat that has been harvested in Shibapan village in Luoyang city, Henan province, June 3, 2015. [Photo/IC]
Four residential buildings belonging to farmers collapsed in Wenzhou, East China's Zhejiang province, at 4 am on Monday. As of Tuesday morning, 22 people had been confirmed dead and six seriously injured. The accident highlights the necessity of putting farmers' houses under the State construction quality supervision system, says Beijing News:
The current regulation on village planning and construction was issued by the central government in 1993. But the standards were not legally binding, and it has failed to improve the quality of construction in rural villages as expected.
About 300 million people from rural areas work in cities as migrant workers, and a large number of houses have subsequently sprung up in their rural hometowns paid for with their wages.
According to the regulation, village houses lower than three stories and smaller than 300 square meters, and costing less than 300,000 yuan ($46,000) to build, are not subject to approval and supervision by the local building department.
This excludes most farmers' houses from having to meet any construction standards.
Such houses in the suburbs of cities are dangerous as the homeowners usually add two or three stories on top of the original house, so they can claim more compensation once a city expands and a government wants the land on which their houses are built.
The foundations of the original houses are not designed to hold these extra stories, and many accidents happen across the country because of such extensions.
The accident in Wenzhou should be a wakeup call for the government to amend the regulation, as precarious buildings are a threat to people's safety.