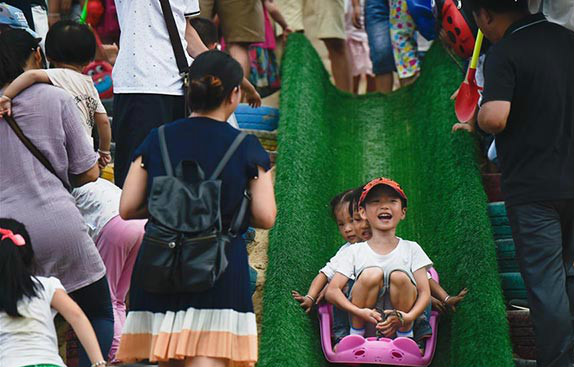 Children play with grass ski in Fuzhou, capital of Southeast China's Fujian province, Oct 2, 2016. People enjoy the second day of the week-long National Day holiday on Sunday.[Photo/Xinhua]
The annual National Day golden week holiday was a bonanza for the domestic tourism industry but many holidaymakers were less than happy with their vacations. The Changjiang Daily commented on Sunday:
The data points to two salient features: First, in terms of both the number of trips and the revenue, China's domestic tourism industry is very large. Second, many people had bad travel experiences during the holidays, due to the poor services at scenic attractions, traffic jams and exorbitant prices. Thus, some people claimed that their vacation was not a holiday.
Behind the booming number of tourists is people's improving living standards, the yearning to travel is realized by people's growing spending power.
The managements of tourist attractions are well aware of this and focus on visitors looking and buying, with the emphasis on the latter. As a result visitors come away feeling unsatisfied and exploited.
The development of the domestic tourism industry should be accompanied by an improved tourism experience. Better management and higher standards are needed so tourists have good memories of their holidays.