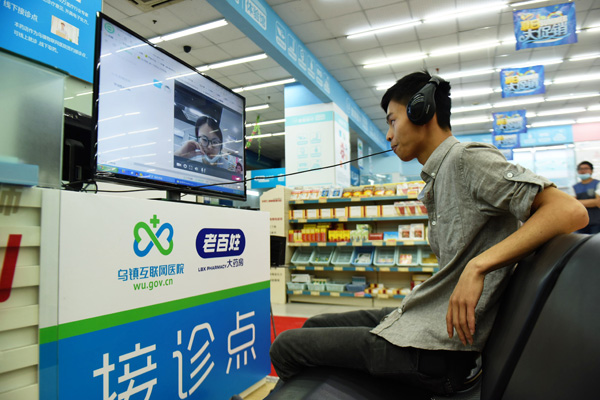 A man consults a doctor via an internet telemedicine platform at a drugstore in Hangzhou, Zhejiang province, in May. [Photo by Long Wei/For China Daily]
Recently, a pediatrician in Laiwu, East China's Shandong province, was hacked to death in a dispute with the relatives of a patient and the parents of a hospitalized newborn in Suzhou, East China's Jiangsu province, threatened to resort to violence if anything happened to their child. Thepaper.cn commented on Saturday:
Although relations between doctors and patients have been volatile and unpredictable in recent years, an increasing number of people have been siding with the doctors instead of the patients, and more doctors have chosen to stand together in the face of threats.
They are right to do so, because violence will not bring deceased loved ones back and in most cases those who have attacked doctors have been given a death sentence, adding weight to the country's "zero tolerance" toward violence against doctors.
However, a new trend has appeared in which medical staff are unwilling to heed the reasonable complaints of patients, with some even going further and portraying themselves as victims.
Such an attitude is by no means conducive to alleviating the tensions between medical staff and patients. Patients and their families from time to time fall prey to mistreatment and exorbitant medical costs, their complaints in this regard should be addressed in a sincere manner. Ignoring their genuine grievances will only antagonize patients and their relatives.
In fact, the country's medical system inherited from the planned economy is struggling to meet the increasing demand, causing harm to doctors as much as patients. An institutional overhaul in the medical system is urgently needed to rebuild trust.